CPS Forwarder Creator 3DS
From GameBrew
CPS Forwarder Creator
General
Author
Sakitoshi
Last Updated
2019/08/08
Type
Forwarders and Virtual Console Injectors
Version
1.5.3
License
Mixed
Links
Download
Website
With this tool you'll be able to make independent retroarch CIAs for your favorite CPS1 and CPS2 (but not CPS3) games using the Final Burn Alpha 2012 (0.2.97.29) CPS1 and CPS2 cores, without having to install retroarch or anything besides the generated CIA.
Note: For New 3DS only.
User guide
Please note for CPS2 you'll need to copy the QSound bios (named "qsound.zip") in the same folder as this program, it isn't needed for CPS1 games.
The program will detect if the bios is usable and wont let you proceed if the bios is missing or incompatible.
If the resulting CIA doesn't boot (boots and kicks you out to the 3DS menu without warning) is most likely due to an incompatible romset.
You can test your roms with the PC version of Final Burn Alpha 0.2.97.29 or Retroarch with the 2012 FBA core before creating the CIA to make sure it will work.
Some roms refuse to work even if they do in your PC, don't know exactly why, possibly due to limitations of emulation.
As of version 1.5.3 a turbo button has been added. This button has to be manually enabled by giving it a key map from the button remapping option.
It works like a shift button, any other button that you press while holding the turbo button will rapid fire.
Controls
CPS:
Y - CPS LP
X - CPS MP
L - CPS HP
B - CPS LK
A - CPS MK
R - CPS HK
Start - CPS Start
Select - CPS Coin
Screenshots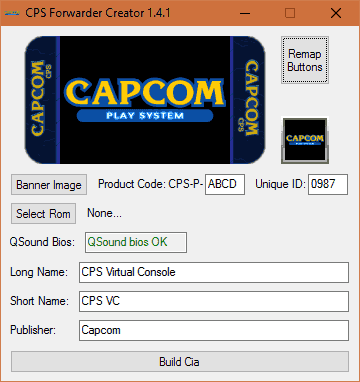 Media
How To Play CPS2 Capcom Arcade Games On Your New 3DS Console / Make A Street Fighter Alpha 3 CIA (WizeWizardGaming)

Compatibility
For N3DS only. O3DS is not able to emulate CPS at playable speed.
Changelog
v1.5.3
Turbo button technology™ added, it needs to be manually enabled from the button remapper.
v1.5.2C
Slight tweak to the parent rom mechanism (hopefully the last).
v1.5.2B
Better way to tell if the game is a cps1 or cps2 title.
v1.5.2
Better code for parent rom checking, some games were still asking for a parent rom when wasn't needed.
v1.5.1
Fixed a bug where roms could ask for the wrong parent rom or roms that didn't needed a parent rom asked for one.
v1.5
Added random product id and unique id generator. it generates a random code every time you select a rom.
v1.4.1
Initial release.
Has the same functionality as my neogeo forwarder creator.
Credits
Tools used to make this possible:
3dstool, bannertool, ctrtool, imagemagick convert and makerom.
And thanks to @Asdolo for his retroarch fork.
External links