C64 games online forwarder creator 3DS
From GameBrew
C64 games online forwarder creator
General
Author
Badda
Last Updated
2020/01/18
Type
Forwarders and Virtual Console Injectors
Version
2020
License
Mixed
Links
Download
Website
This is an online tool that will let you create independent Vice3DS CIAs for your favorite C64 games without having to install Vice3DS or anything besides the generated CIA.
User guide
How to use
The only mandatory field is "Games Image/Archive". All other fields can be left with the default values.
In the "Games Image/Archive" and "Config File/Archive" Sections, zip files can be provided.
The zip files will then be extracted to the respective locations (game or config directory).
Config file
You can further customize the emulator behavior by providing additional config files (e.g. a new sdl-vicerc file).
The easiest way to get an ideal Vice3DS config file (sdl-vicerc) is to install Vice3DS on your 3DS, set up everything as desired in Vice Menu and save your settings.
The new sdl-vicerc file can be found on your SD card under /3ds/vice3ds/default/config/sdl-vicerc.
See the discussion thread for details.
Screenshots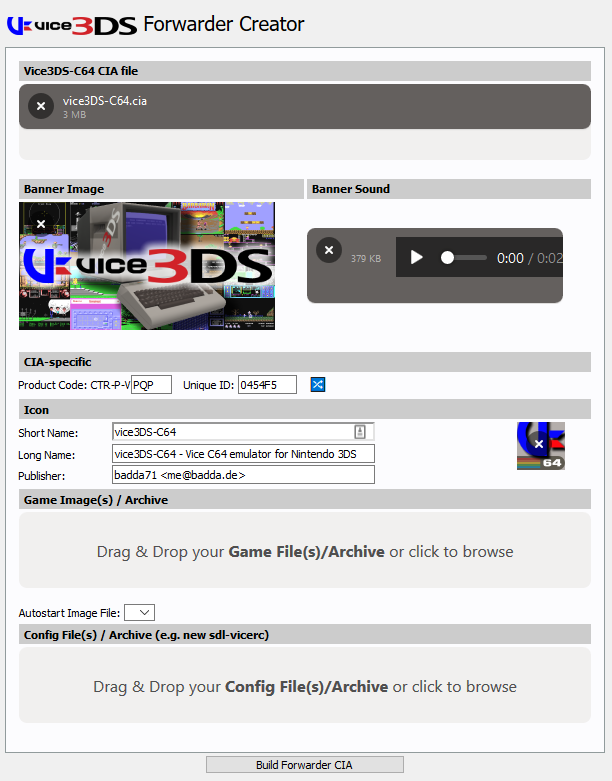 Compatibility
It is tested with Firefox.
External links