ButtonPresser3DS
From GameBrew
ButtonPresser3DS
General
Author
trainboy2019
Last Updated
2017/06/22
Type
Other Apps
Version
2.0
License
Mixed
Links
Download
Website
Source
A simple button pressing homebrew for the 3DS.
User guide
It's a button. You press it.
Tap and hold the button to press it. Release it to stop pressing it.
See how many times you can press the button.
Controls
Start - Return to the Home Menu
Up/Down - Change the color of your button
Left/Right - Change the style of your button
R - Reset your score
Screenshots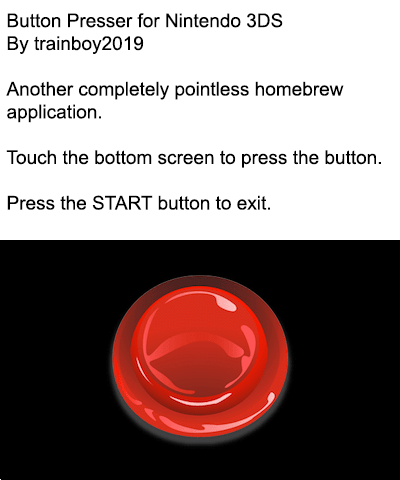 Credits
LucarioWolf for bringing up the idea and starting the thread that evolved into an eternal pit of fire.
TricksterGuy for using several resources from your 3DS Homebrew Template.
Xerp for SF2D and SFIL, as well as for your Makefile.
wintermute808 and fincs, for the 3DS Application Template, which was used in the creation of this.
B_E_P_I_S_M_A_N for the base of the code.
External links