Browsr PSP
From GameBrew
Browsr
General
Author
Yongobongo
Last Updated
2007/10/06
Type
File browsers
Version
0.2
License
Mixed
Links
Download
Website
Browsr is a comprehensive multimedia homebrew application for the PSP. The program allows you to play MP3s, view images in JPG and PNG formats, change the wallpaper and more.
It is written in Lua , without the need to run LuaPlayer to use it on PSP.
Features
MP3 Playback.
JPG/PNG Viewer.
Configuration Panel.
Wallpaper Changer.
Theme Support.
Lua Script Launch.
USB Mode.
Real-time Clock.
Battery Information.
Exit to XMB.
User guide
There is a password protection feature in this updated version, the password is hidden in the file Password.PW. Edit it in notepad to change your pin.
The formats shown below are compatible to be executed in this application, however, you can delete anything from that application.
Supported formats
| | |
| --- | --- |
| Music | MP3, OGG, WAV, UNI, ITEM, XM, S3M, MOD, MTM, STM, DSM, MED, FAR, ULT, 669. |
| Image | JPG, TGA, PNG, BMP - must be 24 bit. |
| Text | TXT, HTM, HTML. |
| Executable | Static ELF (static ELF), LUA, LUA Package. |
Controls
For password feature:
Right/Left - Change selected figure
Up/Down - Change number
Cross - Submit pin
Screenshots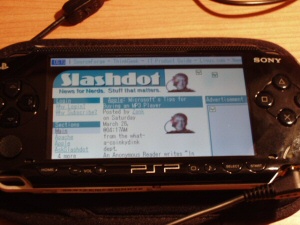 Changelog
v0.2
Splash Screen R.I.P.
Password Protection for those *Personal* files.
Fixed up the bugs.
External links