Breakout DS
From GameBrew
Breakout DS
General
Author
Scognito
Last Updated
2006/12/07
Type
Arcade Games
Version
0.1
License
Mixed
Links
Download
Website
Breakout DS is a clone of the famous breakout/arkanoid/bricks game. In addition it is themed with Mario Bros series things, like power-ups, music, font and backgrounds. It includes an editor to create your own levels. It is one of the PAlib projects.
It was submitted for the NEO Summer Coding Contest 2006.
Features
Mario themed: 10 levels in total.
Music for each level, from Mario 1 to Super Mario World 2.
3 game modes: Normal, Random and Custom.
4 power-ups.
2 control types.
User guide
You have 3 lives and if they reach zero, it's game over.
Game modes
Normal - Clear 10 levels.
Random - Infinite levels, randomly generated.
Custom - Draw and play your own levels (10 max).
Difficulty
Easy - If you lose a life all the bricks will not be respawned.
Hard - If you lose a life all the bricks will respawned.
Powerups
Red mushroom - Double size.
Blue mushroom - Half size.
Fire flower - Super ball.
Magnet - Allows you to catch the ball without effort.
Saves both records as levels created by yourself, everything goes to the RAM.
Controls
There are 2 control types: D-Pad or Stylus.
D-Pad - Move paddle left/right
Up/L/A - Launch ball
Stylus - Move paddle, Tap ball for throwing
Screenshots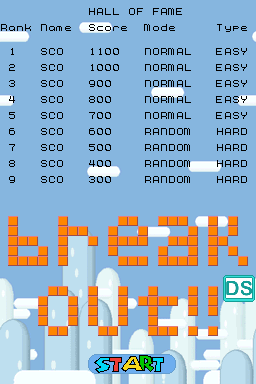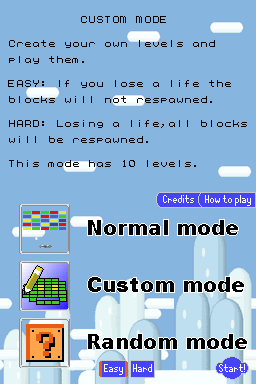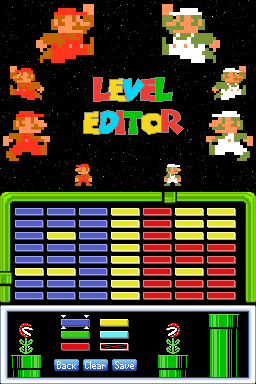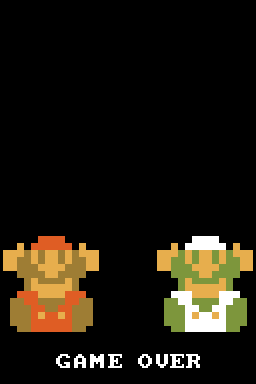 Known issues
All save types (levels, hall of fame) are done in ram, so when you turn off the console, everything is cleared.
Music is restarted when pause the game and it doesn't loop since palib doesn't support the feature to know if a channel is busy.
External links