Breakout!
From GameBrew
Breakout!
General
Author
Ds
Last Updated
2011/01/15
Type
Arcade Games
Version
1.2
License
Mixed
Links
Download
Website
Breakout! is a clone of Arkanoid. It is a multi-language (English and German, depending on user's preferences) 3D-Breakout clone with little in-game manual. In this game you must remove all the blocks to get the highest score, you can move the camera as well for easier gameplay.
This homebrew was participated in NEO Compo 2010.
Installation
Download and extract file.
Copy it to the root directory of the card.
If you want Highscores to be saved, you have to create a /data/breakout/ folder on your flash card.
User guide
Items/power-ups will appear when you destory yellow blocks:
Yellow ball - When you collect it, the paddle becomes longer.
Red ball - Has the opposite effect than the yellow one, the paddle becomes shorter.
Green ball - Extra life.
Gray ball - Ball will stick to the paddle and you can throw it wherever you want.
Blue ball - It speeds up the ball.
Controls
Stylus - Full Control of the application
D-Pad - Move the blade
R+A/B/Y/X - Move the camera
Start - Pause
Screenshots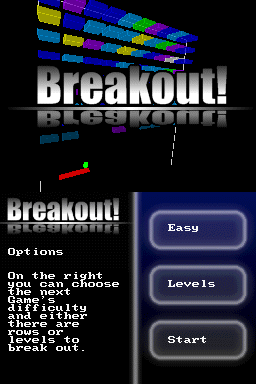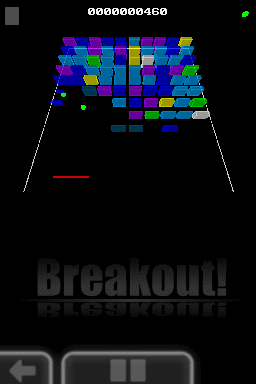 Compatibility
Works on DSTT/TTDS (firmware 1.17).
Changelog
1.2
Added levels (pre-defined layouts).
Updated menu, so you can choose the game's difficulty and either you want to play "random row"-layouts or the new level-layout in the same dialog.
1.1
Added different Difficulties (easy, medium, hard).
Minor technical changes not relevant for end-user.
Edit: Forgot to set version to 1.1 in the file header (so wrong version in Flashcard's menu), fixed now.
2010/08/13
External links