BlackJack DS
From GameBrew
BlackJack DS
General
Author
Scott McClymont
Last Updated
2008/04/22
Type
Card
Version
0.7
License
Mixed
Links
Download
Website
BlackJack is a DS homebrew card game based on the Blackjack which is played across the world that's been around for hundreds of years. This homebrew is designed with the intendion to appeal more to the more dedicated blackjack players, who wish to practice the game using rules that are common in their part of the world or local casino. This should involve giving the user as much information as possible about the state of the game at any given time, including win/loss stats, success of certain decisions etc.
User guide
Blackjack is a card game played with a dealer and a number of platers, with each player playing directly against the dealer and not against the other players. Usually played with anywhere from 1-8 decks of cards, the objective of the game is to get the total of your card to add up to as close to or equal to 21 without going over or busting.
This homebrew uses the same principle, with additional options that allows you to configure the following game settings:
Dealer stand on soft 17.
Can double after split.
Blackjack pays...
Can double on...
Number of decks.
Splits allowed.
At the end of the game, there will be a stats screen showing details of initial card dealt to the dealer, frequency of betting at each amount, etc.
Controls
Stylus - Select and play
Screenshots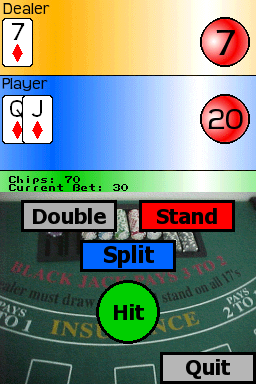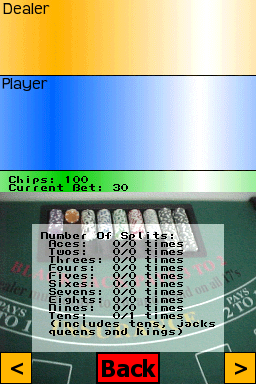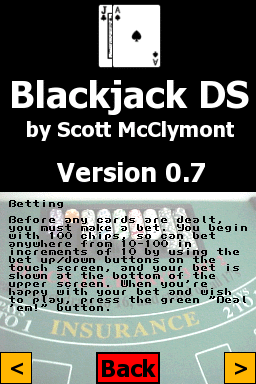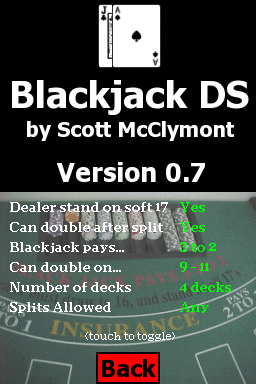 Media
BlackJack DS - homebrew game by Scott McClymont (Luna's Second Wii Channel)

Compatibility
Tested with the R4DS and a MicroSD card. It is recommended to use on NDS rather than an emulator.
Changelog
v0.7
New, clearer card graphics with suits.
Sound effects for card dealing and shuffling.
In-game help pages on how to play blackjack.
New options to tweak:

Can change number of decks between 4, 6, and 8.
Can alter splitting rules.

More stats including breakdown of initial player/dealer cards.
v0.6
New options section:

Can alter several game rules using touchscreen.

New stats for frequency of betting and splitting.
About section expanded.
v0.5.1
Improved title screen graphic.
Added a game icon (only displays on DS hardware).
v0.5
New background for game area to aid with clarity.
Hand total now more prominant and shown with a graphic.
"About" and "Stats" pages now consistent with other pages.
User input now entirely touch screen.
Split hand shown in text, then swapped when active.
v0.4
Background split to cover both screens (accomodated gap between DS screens on console).
Semi-transparent bar behind headings to legibilty (transparancy only on DS hardware).
Added basic win/push/loss and blackjack stats.
v0.3
Added basic graphics for cards.
Player can now split hand once if dealt a pair except for 5s, 10s and face cards.
v0.2
Swapped top and bottom screens.
Added touch screen input.
Added lower screen GUI with context enabled buttons.
v0.1
Text based output.
Input via face buttons.
Can hit, stand and double bet on 9, 10 & 11.
Can increase and decrease bet with shoulder buttons.
External links