Beatbox PSP
From GameBrew
Beatbox
General
Author
Babkock
Last Updated
2019/08/13
Type
Music
Version
1.6
License
Mixed
Links
Download
Website
Source
Beatbox is a drum machine for the PlayStation Portable. It contains four different sound sets.
It is featured at the PSP Genesis Competition 2011.
Installation
If you have Custom Firmware or a homebrew-enabled PSP, create a folder named Beatbox in your /PSP/GAME/ folder, and place EBOOT.PBP inside.
User guide
There are four sound sets: Rock and Roll drums, Hip Hop, Drums, and Bongo Drums. Change the sound set in the pause menu.
Eight-key mode allows you to play eight different drum sounds, as opposed to four-key mode, which only allows you to play four different drum sounds.
Toggle eight-key mode in the pause menu. As you play, lights will flash in the middle of the screen.
You can edit the colors in the pause menu. Or, you can disable this function in the pause menu.
Controls
Menu:
D-Pad - Move between options
Cross - Start
Circle - Exit
In game:
D-Pad - Play sound
Cross - Play sound
Circle - Play sound
Triangle - Play Sound
Square - Play sound
Start - Pause
Screenshots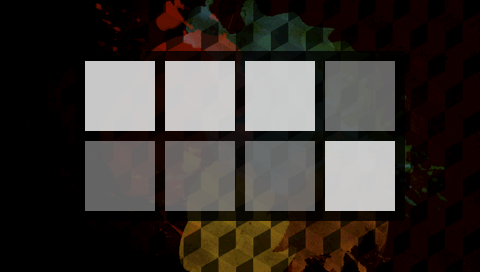 Changelog
v1.6
Made metronome more stable.
Shook the UI up a bit.
Made only black and white grid styles.
Fixed music plug-in bug.
Used virtual files for images.
External links