Ball
From GameBrew
Ball
General
Author
abyssahx
Last Updated
2008/04/04
Type
Puzzle
Version
1.0 Final
License
Mixed
Links
Download
Website
Ball is a color matching puzzle game for the NDS, where 4 balls will appear at once in different directions.
User guide
Align 3 balls of the same color to make them disappear, each turn 4 balls will be added and they do not all fall from the same direction.
When balls are being eliminated, try tapping them with the stylus to gain some bonus points.
If you need some help getting out of bad situations, use one of the 2 bonus icons on the top left of the bottom screen to reverse the table of balls.
Controls
D-Pad or Stylus - Move balls
A/L - Release balls
Bonus icon - Reverse the table of balls
Screenshots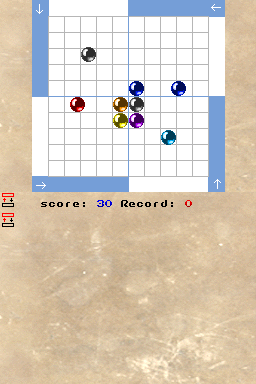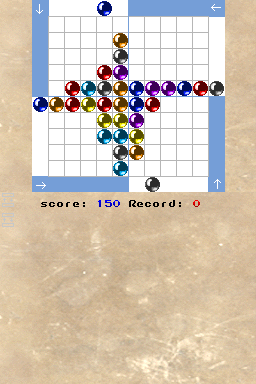 Changelog
Version 1.0 2008/04/04
Title screen.
New type of overturn bonus.
Gain of a knockdown bonus every 300 points.
No animation at the level of the balls (there are too many balls, it disturbs a lot).
Saving the best score.
Colors of the balls slightly lighter.
Version 0.1 2008/03/14
External links