Aztec Challenge
From GameBrew - a wiki dedicated to Video Game Homebrew.
Aztec Challenge
General
Author(s)
Bodom-Child
Type
Puzzle
Version
1.1
Licence
Mixed
Links
Download
Website

Aztec Challenge is a port of a puzzle reflexion game from the Ti-82 graphing calculator, Laser Mayhem by Badja. Not only the content, developer has completely redone the graphics and changed the futuristic atmosphere of the game for a more pre-Columbian civilization atmosphere. This homebrew is made with PAlib.
It was submitted to the NEO Spring Coding Competition 2006, ranked 2nd.
Features
Completely remade and original graphics.
Updated gameplay.
Support French and English (depending on DS settings).
Installation
.ds.gba - Your progress and total played time will be saved on SRAM, you can continue your game and switch between the levels you've completed using L/R.
.sc.nds - For Supercard or GBA Movie Player, your progress won't be saved, but you can switch between all levels using L/R (simply download the AztecChallengeSC_GbaMP one).
User guide
The objective is to destroy the crystal by firing fireballs strategically through the levels.
In order to destroy the crystal completely and pass the level you will have to shoot the fireballs twice, using the Quetzalcoatl Idols to launch fireballs.
There will also be different objects and obstacles that will come into your way.
The first 9 levels are tutorials which will explain you the goal of the differents objects you'll encounter.
Once you passed those 9 levels, you can put the cursor on an object to view its effect on the upper screen.
Level Editor
A Level Editor is also provided, which allows you to create your own levels and add them directly to a rom, so you can test them directly on the NDS.
Alternatively you can save your own levels on your hard drive (in case you want to edit them later).
Controls
A - Select
D-Pad - Move up/down/left/right
Start - Pause
B - Restart level (during pause)
L/R - Switch between levels
You can play the game using the buttons or the Stylus.
Screenshots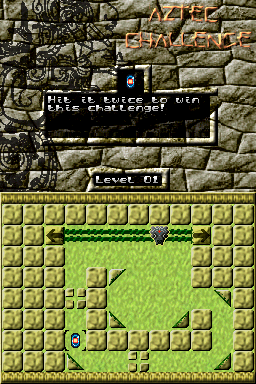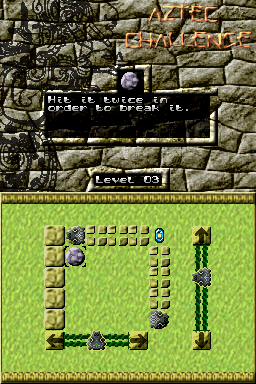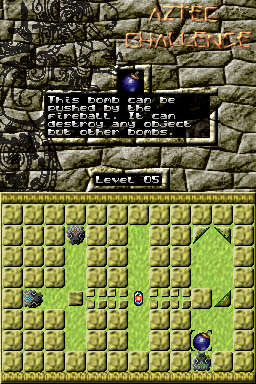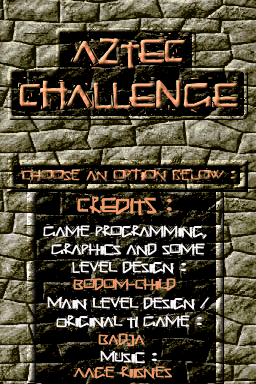 Compatibility
The game is fully playable with emulators Dualis and DSEmuMe (but without sound).
External links