Avoid 'em all
From GameBrew
Avoid 'em all
General
Author
t4ils
Last Updated
2007/01/22
Type
Other Games
Version
1.03
License
Mixed
Links
Download
Website
Source
Avoid 'em all is a dodging them all game where you have to avoid the falling oranges.
User guide
Gameplay
You must, armed with your Stylus, avoid the oranges at all costs which break on your red square.
The objective of the game is get the best score.
The orange rain speeds up during your performance, and you will have the opportunity to pick up two types of bonuses to help you last longer!
Life:
Does not in any way allow you to be able to have oranges from time to time. This gauge gradually decreases if you are on one of the two sides of the touch screen:

A coordinate in 0 or 255 (all to the left or all to the right) will reduce your life. If it reaches 0, you lose.
This system has been put in place to prevent camping on the edges of the screen.
Time:
Indicates your survival time.
Both Time and Life are shown on the screen.
Bonuses
Interesting part of the game, bonuses are accumulated when you catch them. You can see how many you have at any time on the touchscreen. Use them with the left (slowing down) and right (invincibility) keys, (use the Y and A buttons for left-handed people).
Green apples:
The game goes into slow mode for a period of time indicated at the top of the lower screen.
You can then better find your way around when there are many particles. You can get hit in this mode.
Red tomato:
You become invincible. For a moment (shown at the top of the lower screen) you can get hit by any particle without losing the game.
Effective at high performance, but it is still necessary to succeed in catching it.
However, you cannot touch the edges of the screen without losing life, it is a forbidden zone.
Controls
Stylus - Move square
Left/Y - Activate slow down
Right/A - Activate invincible
Screenshots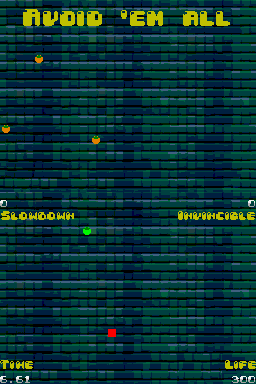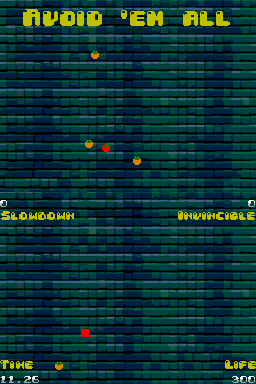 Changelog
Version 1.03 2007/01/22
Fixed invincibility bug.
Slight decrease in speed of sending the balls when they start to surge at high speed.
Slight modification of the graphics: the balls to be avoided are oranges, invincibility is represented by a red tomato and slowing down by a green apple.
Version 1.02 2007/01/10
Bonuses are stored. Use with left or right (using Y and A buttons for lefties).
Changing sounds when going slow motion (more immersive).
Version 1.0 2007/01/10
Credits
Thank you to the whole PA community.
Thank you to chan #pa.org.
Thank you Mollusk for PA_Lib.
External links