Avia : Tropic Edition
From GameBrew
Avia: Tropic Edition
General
Author
Simplex Productions
Last Updated
2010/10/09
Type
Other Apps
Version
2010
License
Mixed
Links
Download
Website
Avia is a free birdwatcher's guide, equipped with high quality bird calls, detailed images and information for every bird enthusiast alike. It's perfect for trips, or any situation where you can't get ahold of any resources for exploration.
It was ranked 7th in the NEO Coding Compo 2010, APP section.
Installation
Download Avia: Tropic edition.
Move Avia.nds/Avia.ds.gba onto your flashcard by mounting it onto the MicroSD chip using an adapter.
User guide
There is an extra feature, Quiz Mode, which tests your knowledge of bird biodiversity by guessing the name of birds from the appearance and bird calls.
Controls
The touch screen is the main tool for this application.
Left/Right - Navigate through the Bird Guide
A - Play the sound of the bird's call
Select - Prompt the Help/Controls menu
Start - Return to Main Menu
Motion kit - Navigate the bird guide to the left and right by tilting
Screenshots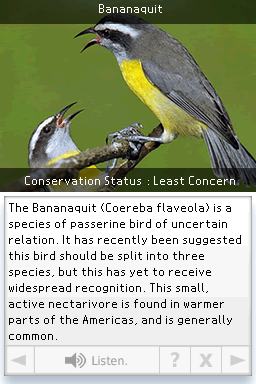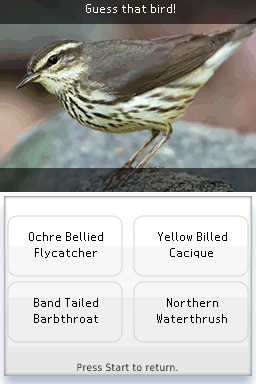 Credits
Producer: Richard "zhangzi89" Zhang.
Software Developer: Daniel "x711Li" Li.
Sound Editor: Andrew Johnson.
Graphic Design: Jason "diSTurBedDeSIGNs" West.
Sound Effects: Nature Sounds.
Information: Wikipedia.
Thanks to: Neoflash, devkitPro, PALib.
Special thanks to the Beta Testers:Alexander Patterson, Anthony Patterson, Edward Steadsman, Michel Torres, Ronald Scrawner, Song Tian, Wan Shao Li.
External links