Atoms DS
From GameBrew
Atoms:DS
General
Author
Ross "GouldFish" Gouldthorpe
Last Updated
2010/04/12
Type
Puzzle
Version
0.7
License
Mixed
Links
Download
Website
Atoms:DS is a homebrew puzzle game where you have to create chains reactions, eliminate your rival's atoms and convert them to yours. It is based on a game on Amiga with a few additional features including a multiplayer mode for up to 6 players.
User guide
The objective is to destroy all the other players' atoms.
Each player takes turn to place an atom.
This atom can either be placed on the an empty square or on top of one of the players existing atoms. Atoms will go critical and explode if the same number of atoms are placed on the square as there are surrounding squares (e.g. corners take 2, edges take 3 and centre take 4).
When an atom goes critical and explodes it will place new atoms horizontally and vertically around the square. Any atoms already in those squares will be increased in size and become the property of the player that started the explosion.
Chain reactions are the key part of the game.
Controls
Stylus - Used throughout the game
Screenshots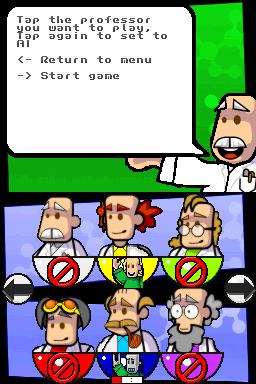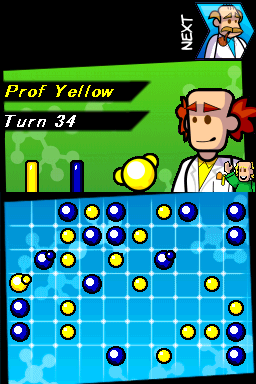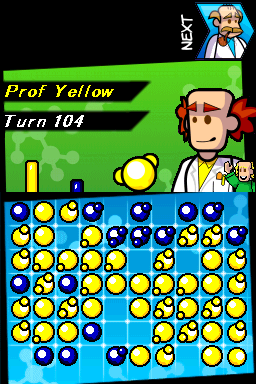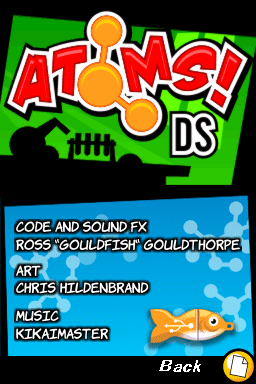 Compatibility
Tested on R4i-SDHC (firmware 1.09b).
Changelog
V0.7
Updated the exploding code so infinite loops should no longer happen.
All the players progress is shown on the top screen in the form of bars cleaned up artwork.
V0.6
Basic AI added.
Atoms animate when its your turn.
Atoms also animate when they grow.
Tutorial added.
Players can now pick which professors they want.
Improved menus.
Credits
Code and Sound FX by: Ross "GouldFish" Gouldthorpe.
Art by: Chris Hildenbrand.
Music by: Kikaimaster.
External links