Asteroids DS
From GameBrew
Asteroids DS
General
Author
Ronaldo Lombardi
Last Updated
2009/06/08
Type
Shooter
Version
Final
License
Mixed
Links
Download
Website
Asteroids DS (Portuguese) is a clone of the classic shooter game released by Atari in 1979. It keeps the gameplay original, with the difference that the console has two screens, which are used during the game. This homebrew was was programmed in C using PALib and all the new graphics are taken from the internet.
This version was made and presented at the first PUC games festival in 2009.
User guide
Take the role of a spaceship and you must destroy the asteroids to keep the ship safe. Whenever you shoot an asteroid, it divides into smaller pieces, which becomes smaller and smaller until all fragments are eliminated completely.
A highlight of this version of the game is that it uses both screens of the console, creating a larger stage.
Controls
D-Pad or L/R - Rotate ship
A/Y - Accelerate
B/X - Shoot
Start - Start, Pause
Select- Music on/off
Screenshots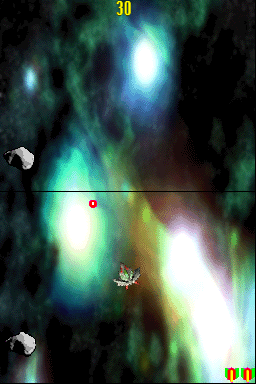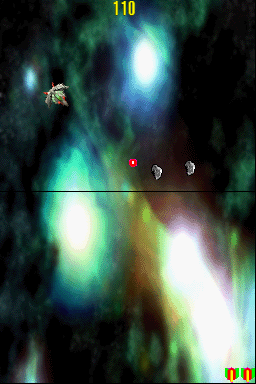 Known issues
In some cases, soon after starting the game, there is a buffer overflow of the sprites and the game distorts the images and controls do not respond, then the game must be restarted completely.
Compatibility
Tested on R4DS R4 Wood (firmware 1.37).
Credits
Thanks TioSolid from NewsInside for posting the game.
External links