ArkanoiDS
From GameBrew
ArkanoiDS
General
Author
Diffuse
Last Updated
2005/08/11
Type
Arcade Games
Version
Final
License
Mixed
Links
Download
Website
ArkanoiDS is a clone of the popular breakout/arkanoid game on DS. Currenty, ArkanoiDS has 10 built in levels complete with 6 different type of bricks. In ArkanoiDS you are not limited to only moving the paddle left and right, with the stylus you can move the paddle anywhere on the bottom screen.
It was submitted to the NEO Flash Competition 2005 which was ranked 8th.
Features
10 challenging levels.
6 different type of bricks.
Paddle can go up and down.
User guide
The different color of bricks are (from easiest to hardest) Yellow, Blue, Green, Orange, Red and finally Purple.
Controls
Touch Screen - Move paddle, Select menu options
Screenshots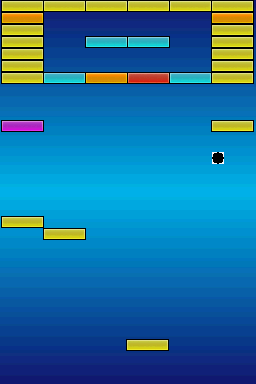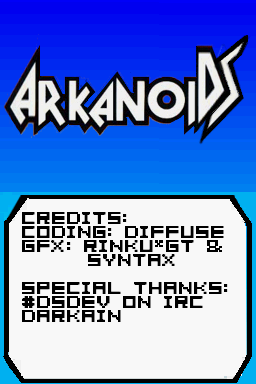 Known issues
Works on emulator but some reports that doesn't work on DS.
Always the same angle, no powerups.
Changelog
Final version
Paddle colision is now 100% fixed.
Should work on hardware.
10 challenging NEW levels (except for the first and the second).
A nice menu.
External links