Ami² 3DS
From GameBrew
ami²
General
Author
moriczgergo
Last Updated
2017/08/08
Type
Utilities
Version
2.0.0
License
Mixed
Links
Download
Website
Source
ami² - Amiibo Duplicator is a 3DS homebrew application that allows you to duplicate your stored game data between Amiibos. You can copy to the same character, or even a different one. Use this easy tool to have two identical Amiibos, or to see what moves other characters have in SSB.
Installation
Available in CIA, 3DSX and 3DS formats.
If you are using the .3dsx, you need to enable SM patches in Luma to gain advantage of this update. This is because Luma doesn't grant nfc:m service permissions by default.
If you are using the .cia, copy to your SD card and install with a CIA installer (no changes needed).
User guide
This homebrew will read and copies the savedata from the first Amiibo to the second one (such as SSB attack value, bonuses, level, etc).
All games are supported.
Note: It only works for 2 identical characters and will not change the character that the Amiibo is.
FAQ
Q: It tells me to enable the SM patch. What is that?
It's a patch that enables us to use the nfc:m service, that makes fetching AppIDs possible.
If you are running Luma, go into Rosalina, select Process patches menu..., and select Patch SM for the service checks.
Q. It tells me that my Amiibo is not initialized. Why is that?
Because there isn't any save data on the Amiibo. Please update to v2.0.0 and try again.
Q. I'm stuck in a loop!
You will have to force-shutdown your 3DS by holding the power button.
Screenshots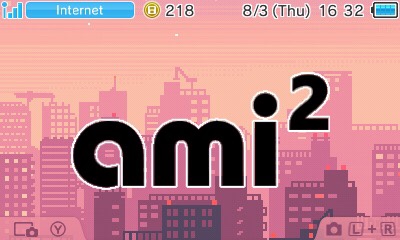 Media
ami² v2.0.0 Preview (skiilaa)

amibac and ami2 Homebrew Showcase (TCPixel)

Changelog
v2.0.0
Brand new UI. This UI uses Citro3D, the system font, colored background, transparent images, etc.
Open sourced the code. Have fun, and report issues that you've found.
Ability to initialize the destination Amiibo.
Ability to retry if the process fails.
v1.2.0
v1.1.0
Press A to start scanning: Say goodbye to accidental errors.
CIA builds, for all ya home screen guys.
Credits
AnalogMan for the help with building .cias and refactoring the code.
HiddenRambler for pointing towards an undocumented nfc:m command that returns the Amiibo's AppID.
External links