Alchemist Conflict
From GameBrew
Alchemist Conflict
General
Author
Linkz
Last Updated
2009/08/18
Type
Role playing
Version
2009
License
Mixed
Links
Download
Website
Alchemist Conflict is a homebrew RPG Adventure game with turn-based battles for the NDS, released by Linkz.
User guide
Story
Your name is Quinn. One quiet day, suddenly, you receive a warning for citizens to return to their homes: monsters are attacking the city.
The security guard told you everything is under control, but when you return to your house your sister Aya is nowhere to be found, only then you see a note that says that she is bored with the city and is leaving.
Worried about Aya, you go out in her pursuit, together with your friend Viktor, with whom you will learn fighting techniques.
Battle
The game implements a basic turn based combat system, where you and enemy take turn to perform actions.
When it is your turn (during a battle), tap on a character from your party to choose who is going to attack, and then tap on the enemy to select.
Tap it once again to launch a normal attack, or you can trace shapes to case magic (once you learn the ability, there are earth, fire and ice magic).
You can also use potions to recover life, touch them in combat or outside of it and it will recover life to all the characters in the team.
Note: When playing on the computer you can use you mouse and click on the bottom half of the screen. This simulates a press with the Stylus on the DS.
Controls
Start - Pause game
A - Action, Advance in converation
D-Pad - Move character
Stylus (in battle) - Select enemy, Cast Magic
Stylus (in game) - Select menu, Cast Magic
Screenshots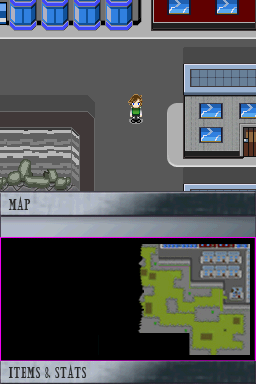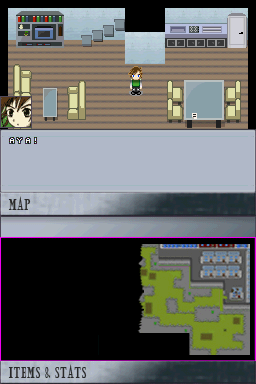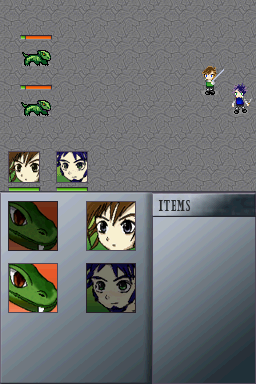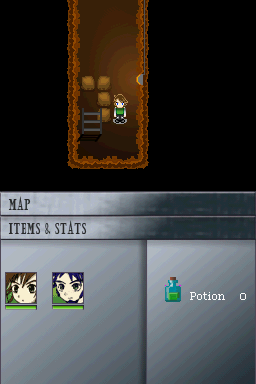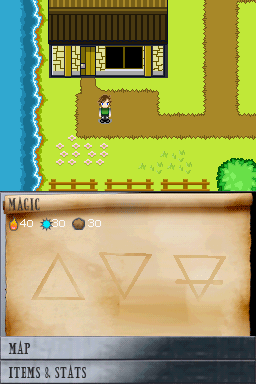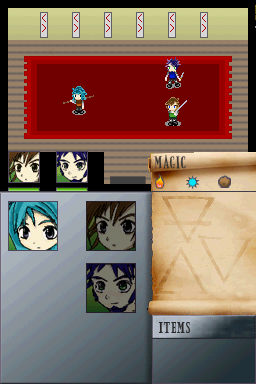 Compatibility
Tested on SuperCard DSTwo.
Known issues
There is an error in the game that if you fall into it you will not be able to continue playing correctly. To avoid this you must go to the house that is further to the right and further down. If you go to the northwest part there will be an error with the collisions that will make that once you leave the house again (since that area is not the house) you will not be able to go lower.
External links