airscan
From GameBrew
airscan
General
Author
trou
Last Updated
2011/10/16
Type
Utilities
Version
1.0
License
GPL-3.0
Links
Download
Website
Source
AirScan is a Wi-Fi scanning utility for the Nintendo DS. It offers various filtering features to facilitate access point discovery.
For example, it can be used to locate open access points in low WiFi density areas thanks to its sensivity.
Features
Display only desired protection levels (open, WEP, WPA).
Easy scrolling.
Timeouts for out of range APs.
Connectivity testing for open access points:

DNS resolution of www.google.com.
Google homepage retrieval.
User guide
AirScan will start discovering and displaying surrounding access points as soon as it is started.
You can choose to display only certain APs based on protection (between open, WEP and WPA access points display).
If you want access points to disappear when they haven't been seen since some time, you can define the timeout, in seconds. A timeout of 0 disables the functionality.
If you want to test the connectivity of an open access point, click on it in the list (WEP and WPA are not and will not be supported) .
This will bring up a new screen and AirScan will try to associate to this access point, then do a DHCP request to get an IP address.
If it succeeds, it will try to resolve the IP for www.google.com, get the Google homepage and display the beginning of the HTTP response on the top screen.
This feature is particularly interesting to check if a given AP is really open or a captive portal.
Limitations
Cycling through all present access points can be quite long if there are too many.
This is a limitation of dswifi which implies that some parameters are not updated in real time, like signal strength.
This also means that timeouts can behave strangely.
Controls
Up/Down - Scroll the list
L/R - Scroll a screen at a time
B/A/X - Toggle between open, WEP and WPA access points display
Left/Right - Define the timeout (in seconds)
Stylus - Test an open access point
Screenshots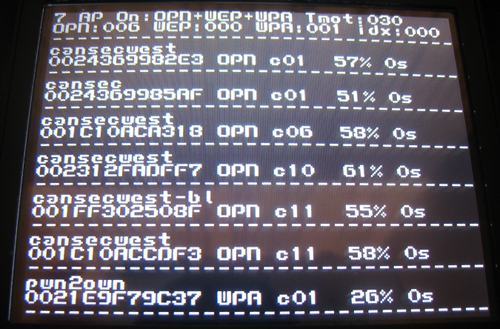 Known issues
Crashes sometimes when the number of APs is high (> 400).
When connecting to an AP then going back to scanning and trying to connect to another AP will not work every time (dswifi bug ?).
Timeouts handling is still probably a bit buggy.
Changelog
1.0 2010/11/07
Improved connectivity testing, new icon.
0.6 2010/02/20
Fix for scrolling and timeouts.
0.5.1 2010/01/18
0.5 2010/01/09
Connectivity testing, many bugfixes.
0.2 2009/03/02
0.1a 2008/06/26
Credits
Created by Raphaël Rigo (aka trou).
This app was inspired by wifi_lib_test v0.3a by Stephen Stair. Thanks a lot Stephen for dswifi.
The icon is based on the Wi-Fi icons colors by NeoCorvis, licensed under the artistic license version 2.
External links