3in1 Expansion Pack
From GameBrew
3in1 Expansion Pack
General
Author
Rudolph
Last Updated
2007/12/01
Type
Utilities
Version
1.9d
License
Mixed
Links
Download
Website
3in1 Expansion Pack is a homebrew application that loads GBA ROMs from Flash Card Slot 1.
User guide
It gives support to the EZFlash 3in1. Not having any additional memory Blast or any data entry mode, the application is launched from the Slot 1 flash card which detects Flash Card Slot 2 EZFlash 3in1 (Lite or GBA) and executes the GBA Rom.
Note: Must have Slot2 EZFlash 3in1.
Screenshots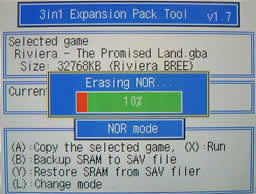 Changelog
Version 1.9d
Adds support for AceKard RPG and X9SD.
Supports SoftReset for SuperCard.
Fixed several bugs.
Version 1.9a 2007/10/12
Minor bugs repaired Supercard DSONE support.
Improved compatibility with AceKard.
External links