3DShell
From GameBrew
3DShell
General
Author
joel16
Last Updated
2021/03/24
Type
File Browsers
Version
5.1.0
License
Mixed
Links
Download
Website
Source
3DShell (pronounced 3D-Shell) is a multi-purpose file manager for the Nintendo 3DS that aims towards handling media files.
Unlike FBI which specializes more in title management, 3DShell leans towards more of the file management features such as opening and managing various files types and includes the basic necessity of a standard file manager. This program's design elements are clearly inspired by CyanogenMod/LineageOS's built in file manager, and so all credits towards the design go to the CyanogenMod/LineageOS contributors.
Features
Storage bar (at the very top, just beneath the current working directory).
Precise battery percentage using mcu::hwc.
Image preview:

If the image is around 400*480 which is the size of both screens, the image will be split in half and displayed.
Support image formats - GIF (non animated), BMP, JPG, PCX, PNG, PGM, PPM and TGA.

Creating new folders and files.
Renaming files/folders.
File/folder deletion.
Copy/Move files and folders.
Multi-select items for delete/cut/copy (using Y button).
Extract various archives such as ZIP, RAR, and 7Z.
Searching for directories - Allows you to quickly visit a directory by tapping the search icon (top right of the bottom screen).
File properties - Lets you view info on current file/folder, such as size, modified time, parent folder etc.
Dir list sorting (alphabetical - ascending/descending; size - largest to smallest/smallest to largest).
Browsing CTRNAND and copying data to/from CTRNAND.
Online updater.
Installation
Available in 3DSX and CIA formats.
3DSX - Copy .3dsx to the 3ds folder on your SD card and run it via Homebrew Launcher.
CIA - Copy .cia to your SD card and install it with a CIA installer, such as FBI.
Controls
Basics:
C-Pad - Quick scroll between files
Up/Down - Scroll between files
Left/Right - Page up/down
A - Enter a folder, Open file
B - Exit a folder, Close file
Y - Select file
X - Open the action menu, View image properties
Start - Exit Homebrew
Screenshots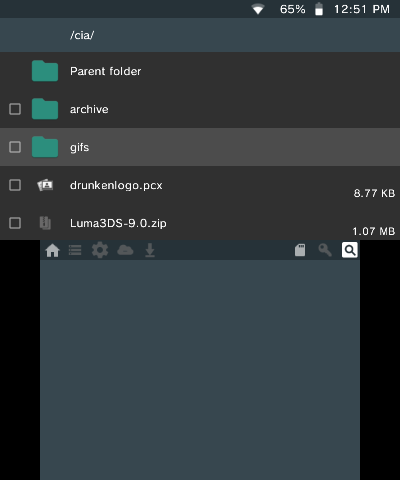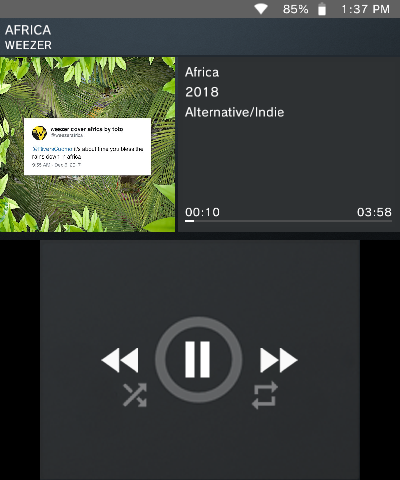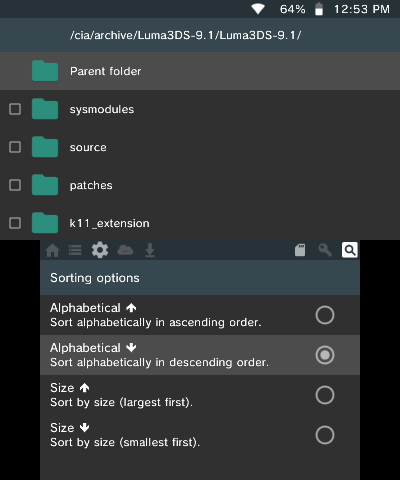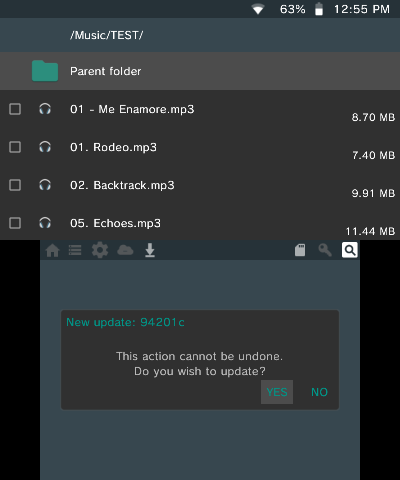 Media
3DShell - Music Player (Joel16)

Changelog
v5.1.0 2021/03/24
Block NAND access if developer options is disabled.
Fix selector going out of bounds when right/left (page up/page down) key is used.
CIA builds are now available. The updater will also download/install updates based on the version you are updating from.
Fix selector going out of bounds when returning from a folder with a long list of files.
Fix width/height display in image properties.
Account for images that fit both screens in image viewer and implement zoom/navigation functionalities when viewing images.
Archive extraction is back and currently supports .7z, .rar and .zip.
Fix alphabetical sorting for filenames with different case letters.
Allow user to cancel a file copy or archive extraction by the use of the "B" button.
Improvised on bottom screen status bar icons.
Updater will now display the download progress.
GUI will now trim the string appropriately if length of a file name/current directory goes beyond the screen.
Touch controls are back for both file options and settings.
Fixed issues copying certain files/folders due to the file names not being cleared and improper casting in progress bar.
v5.0.0 BETA 1 2021/02/08
File browser now displays twice as many files as previous versions (5 -> 10).
Selector now properly follows input and doesn't just stay at the bottom of the screen.
3DShell's screenshot feature has been completely removed. (Rosalina already has a screenshot function so we don't need this here).
There are no longer any nightly updates. The updates option in settings will instead download and install the latest release from GitHub if your application is not up to date.
Storage bar is back.
When viewing an image you can press "X" to view some properties like the name, width and height.
Removed many unused assets and compressed a few (file icons are a lot smaller now) icons.
A lot of under the hood changes, clean-ups that aren't necessary to list here.
Credits
deltabeard/MaK11-12 for the inital ctrmus code port.
mtheall for ftpd.
preetisketch for the banner.
FrozenFire for the boot logo.
External links