3DS Title Manager
From GameBrew
3DS Title Manager
General
Author
TheMachinumps
Last Updated
2017/06/14
Type
Save and Game Managers
Version
2017
License
Mixed
Links
Download
Website
Source
3DS Title Manager is a simple batch tool for managing your 3DS titles, inspired by HackingToolkit3DS.
Features
Extract 3DS and CIA files, as well as rebuilding them.
Extract only the RomFS from 3DS, CIA or CXI files into a directory, and rebuilding the RomFS for HANS.
Build .CIA files from .3DSX files (and allows you to make a custom banner from a png file and a wav file).
Play some music in the background, while it's doing everything (You can turn it off in the settings menu).
User guide
How to use
With the dumped game data, you can place it inside the 3DS-Title-Manager folder, open the toolkit, and you will be able to extract and rebuild a title (.3ds and .cia only), or simply extract the RomFS and ExeFS files (.3ds, .cia or .cxi).
Make sure that your titles are decrypted and are either .3ds or .cia files.
All titles must be inside the 3DS-Title-Manager folder (the one with the Title Manager.bat file).
Whenever you extract anything from a .3ds or .cia file, it will go into a folder with the same name as the file, with the extension afterwards (without ".").
Partition #0 (which is always extracted when unpacking a title) can be really large, so make sure you have plenty of space on your computer.
When repacking a title, it will never replace the old one.
Only folders that have the right files will be recognized by the batch tool.
If you want to convert a .3dsx file to a .cia file with a custom banner, then read the "template-banner" folder.
Custom musics
To change backgound music, go inside the .data folder, then the bgm folder.
Put your musics inside. and you will be able to change the music in the seetings menu.
Make sure that the music is named "Bgm" and has to bean mp3 file or else it wont work.
The name of the default background music is "Dex Arson - Unarmed Ft. Emily Abela".
Notes
Do not edit any files inside the .data folder (With the exception of the bgm folder).
Do not move, delete or rename any files during any extraction or rebuilding process.
Do not edit anything inside the "3DS Title Manager.bat" file (unless you know what you are doing).
Controls
Arrow keys (Up/Down) - Move cursor
Enter - Select an option
Screenshots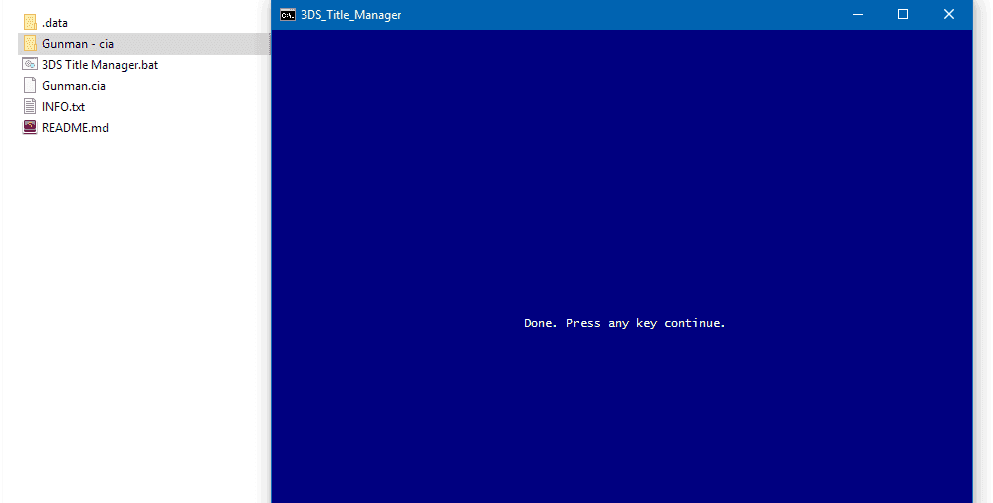 Credits
Quiet - Joe Richards.
cmdmp3 - Jim Lawless.
3dstool - Sun Daowen.
ctrtool - Neimod, 3DSGuy & Profi200.
makerom - 3DSGuy & Profi200.
bannertool - Steveice10.
cxitool - fincs.
batbox - DarkBatcher.
Inspiration - Asia81's HackingToolkit3DS.
External links