3DS Ebook Reader
From GameBrew
Nintendo 3DS eBook Reader is a POC 3DS eBook Reader. The project is no longer in development.
Features
Read ebooks in .epub 3 or later format. You can use tools like sigil or calibre.
Saving bookmarks to XML format.
Loading bookmarks from XML. Easy to add your own manually if you want.
Status bar to keep track of time/battery.
Read a book in a fixed-width way.
Installation
Copy .cia to your SD card and install it with a CIA installer, such as FBI.
Place books as well as the bookmarks.xml in a folder named books on the root of your SD card.
Make sure your ebooks are in .epub 3 or later format. You can use tools like sigil or calibre.
It is recommended to go to DRM-Free bookshops or public domain websites such as Project Gutenberg. Reason being this homebrew does not support books with DRM.
Note: This homebrew is only tested with English language books. Also some books can take a while to load. Be patient.
Controls
A - Select book/bookmark
X - Delete book/bookmark
Up/Down - Scroll up/down lists
Left/L - Previous Page
Right/R - Next Page
B - Back from book/bookmark page (does not exit application)
Select - Bookmark page, Toggle about menu (help screen)
Start - Exit
Screenshots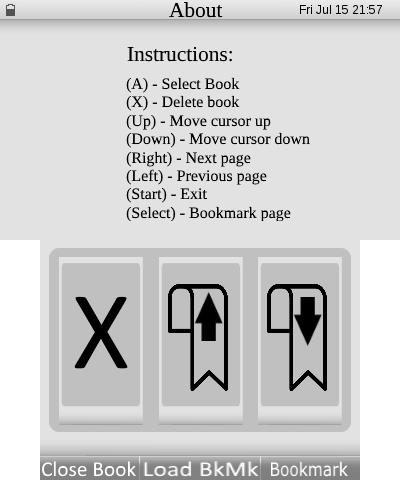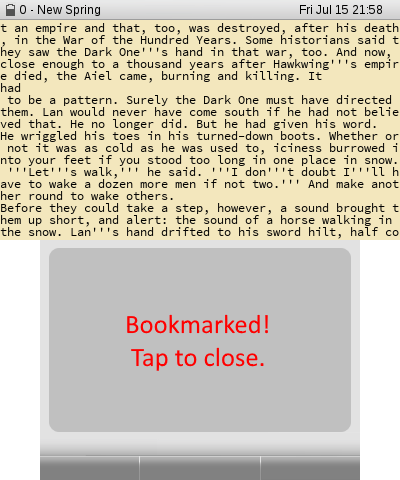 Media
3DS Ebook Reader Alpha Footage (reworks)

Known issues
Crashes if book is not formatted correctly.
Seems to crash when using the home button to close the app. Not entirely sure why, since exiting other ways does not cause an issue.
Changelog
v1.2 2018/01/29
Fixed about screen flickering.
v1.1 2018/01/26
Credits
AlbertoSonic for original repo + art.
cots on gbatemp for the new fancy artwork.
BernardoGiordano for pp2d and makefile
tinyxml2 for xml parsing.
BleuLlama for BLZip
citra team for citra.
The people at #cakey.
gutenberg for books to test with.
External links