3DS Crypto Server
From GameBrew
3ds-crypto-server is an ARM11 Userland homebrew for 3DS crypto over the network.
Note: This tool is intended for developers.
Installation
Requirements
Requires crypto-patches branch of Luma3DS.
Also requires very recent ctrulib (for PS_EncryptDecryptAES to actually work).
Probably also requires you to enable "Patch SVC/service access" in Luma config.
Installing
Extract arm9loaderhax.bin and the 3ds folder to the root of your SD card.
"python crypto_client.py test-vector.bin test-vector_dec.bin 44 1 00000000000000000000000000000000 00000000000000000000000000000000"
test-vector_dec.bin should be all-zero (test-vector.bin is encrypted with keyslot 0x2C, CBC mode, all-zero IV and KeyY).
Gets about ~925 KB/s on console/network. See crypto_client.py for an example client.
Screenshots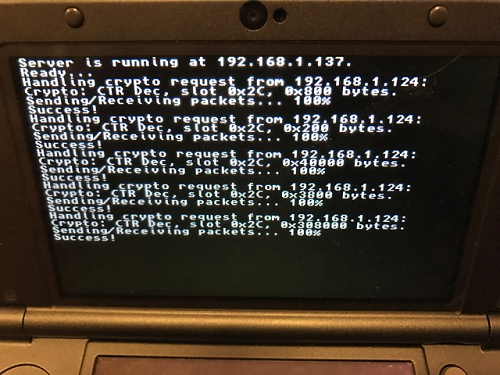 Changelog
v1.1
More robust error-handling:

If a client doesn't respond to our packets the way we expect, or connection dies, server prints an error message and then resumes normal activity.
Hitting B to exit the server (to HBL) actually works in event of critical error.
You can now hit start to exit to HBL, if the server is idle.

In addition, a self-test is performed on startup to ensure the server actually works.
v1.0
External links