3DS CWAV Dumper
From GameBrew
3DS CWAV Dumper
General
Author
TeamFail
Last Updated
2017/06/03
Type
File Operation
Version
0.5
License
Mixed
Links
Download
Website
Source
3DS CWAV Dumper is a tool for dumping 3DS audio files from your RAM dumps.
User guide
You will need:
A RAM dump (you can try running a game for a minute or two prior to dumping).
Winamp/Foobar2000 and the vgmstream plugin are optional (for testing the streams you dumped).
Supported dump formats are:
CWAV (CTR Waves).
CSAR (CTR Sound Archives).
SSEQ (DS Sound Sequence).
CSTM (CTR Stream).
CSEQ (CTR Sequence).
Screenshots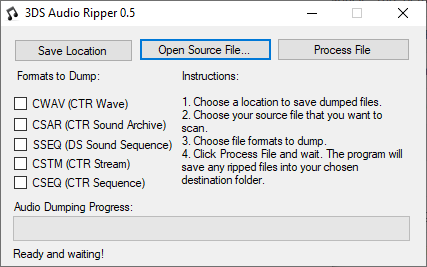 Known issues
This program is still in beta so it can crash from time to time.
Changelog
0.5
Added file streaming support to properly support files 1GB and larger, minor main form changes.
0.4a
Fixed a few more formats. Some endianness wasn't implemented properly. Oops.
0.4
Added CSEQ support, fixed a bug in SSEQ reading, and added folders for each extracted filetype.
0.3b
Fixed a major error when the program read the wrong offset for filesize and dumped very small files. Be sure to update this version.
0.3a
Forgot to switch up a few flags and and whatnot. Oops.
0.3
Program optimizations, added more file formats for ripping.
0.2
Added file scanning, and made the overall program a bit better, easier, and faster to use. Includes .CWAV and .CSAR ripping support.
0.1
Credits
Ris312 for the original CWAV file format specification thread.
Jambo51 for providing a snippet of code he adapted that fixed any and all scanning bugs.
External links