3DSBank
From GameBrew
3DSBank
General
Author
RocketRobz (Robz8)
Last Updated
2020/11/04
Type
Utilities
Version
1.1
License
Mixed
Links
Download
Website
Source
3DSBank is a 3DS homebrew application that functions as a folder selector. If you have reached the 300 titles limit on the 3DS, you can use this homebrew to temporary store the Nintendo 3DS folder into the bank, it also gives you the flexibility to create new folder/select which folder to use.
Installation
Note: Before using this, it is advised to backup your Nintendo 3DS folder to your PC just in case.
Available in CIA format.
To install, copy the .cia file to your SD card and install it with a CIA installer, such as FBI.
User guide
Have you hit the 300 title limit on your 3DS, and/or want more than 300 titles, but don't want to make an EmuNAND, or use another SD card?
The answer, is 3DSBank!
With this, you can store your Nintendo 3DS folder into a bank, and select/create another one to use (containing your other titles/themes/badges).
How does it work?
When starting 3DSBank, it renames the Nintendo 3DS folder, before showing a list of the 3DS folders, so that the list is complete.
Then, you can either select a different one, or exit the tool, so that the 3DS HOME Menu can create a new one.
The titles are stored in the Nintendo 3DS folder. When you select a different one in 3DSBank, you'll access the titles stored in that folder.
So, once you hit the 300 title limit, you can pick a different Nintendo 3DS folder to access other titles.
Add custom names
The custom names can be defined in 3DSBank/3DSBank.ini like so:
[3DSBANK]
SLOT_NAME_0 = Favorites
SLOT_NAME_1 = More Fav.
SLOT_NAME_2 = Homebrew Games

Note: This homebrew runs in TWL/DSi mode to avoid potential issues while moving folder into the 3DSBank. It does not get around the 40 DSiWare title limit.
Controls
Left/Right - Move left/right
A - Select folder, Reboot
Home/Power - Create new Nintendo 3DS folder
Screenshots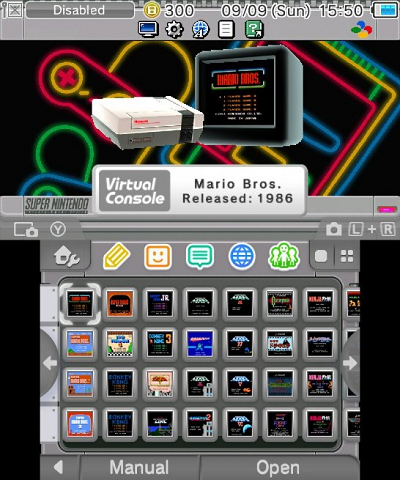 Changelog
v1.1 2020/11/04
Updated to allow custom naming of folders, and having currently active folder selected on startup. See the README for instructions.
Year has been added to the bottom of the top screen, along with the developer's name.
Robz8 has been to changed to RocketRobz in the banner text.

To see the change, delete 3DSBank in DSiWare Data Management, then install the CIA again.

Dithering effect on the top screen has been removed.
v1.0 2018/09/03
Credits
DrStraightface: Updated source to allow custom naming of folders, and having currently active folder selected on startup.
External links