2Dart
From GameBrew
2DartsDS
General
Author
ErrorA
Last Updated
2008/11/27
Type
Shooter
Version
0.9
License
Mixed
Links
Download
Website
2Dart is a homebrew dart game and score keeper for the Nintendo DS.
Features
Dartgame mode (play darts on the DS).
Scorekeeping mode (just scorekeeping).
301, 501, cricket and tactics game mode.
Single and double player mode.
Difficulty-levels: Easy, medium and hard.
Computer opponent for all gametypes and variants.
Game statistics.
Left/right-handed user mode.
Help (instructions).
Installation
Download the latest zipfile and unzip the file.
Copy the 2Dart.nds file to your DS flashcard.
User guide
There are two bars on the screen, one vertical and one horizontal. You will see a steady rise and fall in the power bar which decides the strength of throwing the dart.
Set the bar by the OK button located at the bottom of the target as much as possible to get closer to the goal.
Screenshots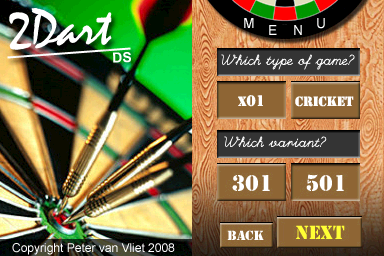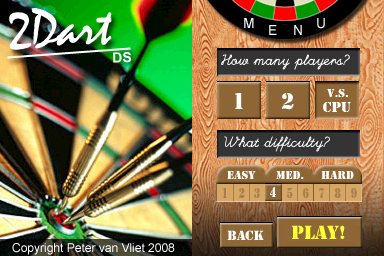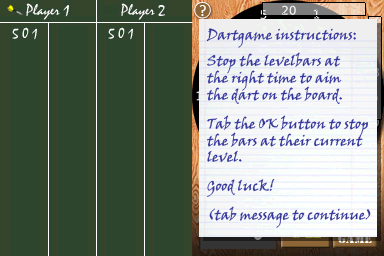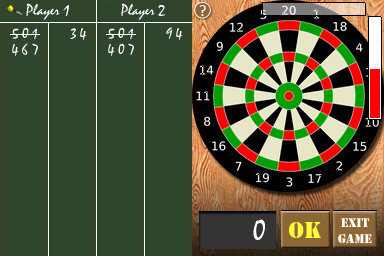 Changelog
Version 0.9
Changes:
Sliding (deck-of-cards like) menu's.
Additions:
Computer opponent for all game types and variants.
Score indicator at cricket games.
"Flying" scores at dartgame mode.
Fixed bugs:
The score doesn't always match with the box of the dart.
The currentscore is shown before the dart hits the board.
When cleaning the X01 scoreboard the start score is printed.
When changing hand with the select button in the first menu,the buttons doesn't update.
Version 0.8
Changes:
Animated darts.
"New game" button changed to "Exit game".
Additions:
Cricket support (classic and tactics).
Difficulty-levels (easy, medium, hard) at game option.
Launch icon and text.
Sound at instruction paper.
Fixed bugs:
Sometimes the 2nd player lowest score is incorrect.
Version 0.7
Changes:
In menu:

In first menu the question "Play darts on DS?" and answers are replaced with "What to do?", "Play game" or "Keep score".
Dartgame mode is now default selected.
1 player mode is now default selected.

At statistics:

Button removed at the gameover screen (to ugly), now you just have to tab the background to continue.
Additions:
Help button added to scorekeeper and game mode.
Button mapping.

A = action (buttons with yellow text).
B = back.
Fixed bugs:
You can't throw out with the double-bull.
Wrong shadow and opaque rendering when in lefthanded-modes.
When switching hand during instructions there is no way back.
When switching hand with select key the menu doesn't update.
After closing instructions, the thrown darts are gone.
After throwing the first dart you can throw de 2nd and 3rd the same way by directly clicking the OK button.
External links