15th Floor
From GameBrew
The 15th Floor
General
Author
tombot
Last Updated
2009/12/11
Type
Adventure
Version
1.1
License
Mixed
Links
Download
Website
Built by a team of adventure-game lovers, The Fifteenth Floor is an adventure game featuring original character art, 3D models, and music. The game (developed by MindWave) has been 5 months into production, and is nearing completion. It has been inspired by games such as Myst, Crimson Room and Phoenix Wright.
Feature
77 different backgrounds.
A working inventory system.
A basic conversation system.
Use items and solve puzzles to escape the 15th Floor.
User guide
In The 15th Floor, you will be Jacob Fazi, a troubled man running from a past filled with tragedy.
Gameplay is inspired by escape-the-room game, where you have to explore different locations, look for clues and solve puzzles.
Screenshots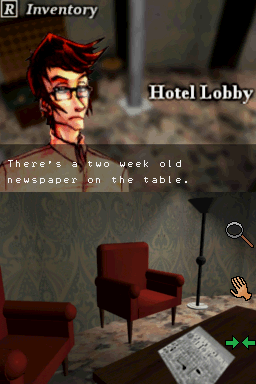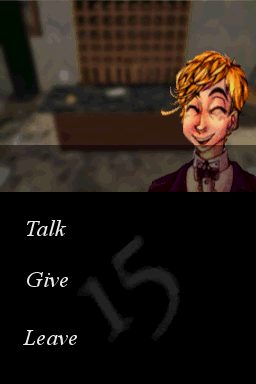 Changelog
1.1
Text irregularities are fixed.
Fixed a couple bugs with the inventory, but nothing terribly noticeable.
Y's and P's font fixed/better look.
Credits
Special thanks to DSGM for making this project possible.
External links