'ramming Santa
From GameBrew
'ramming Santa
General
Author
Jimmy L
Last Updated
2008/01/06
Type
Other Games
Version
0.3
License
Mixed
Links
Download
Website
'ramming Santa is a Christmas theme homebrew game with WiFi supports for the NDS. Up to four players can play over WiFi, and a single player game with 3 AI's is included for practice.
It is created for the Drunken Coders Third Annual Christmas Game Coding Competition.
User guide
How to play:
Your goal in this game is to program your player to pick up the gift and deliver it to any of the sleighs.
You'll be competing against up to three other players, so watch that they don't push you into the water to slam into you to steal the gift you might be carrying.
Hosting Instructions:
In order to host a game, you will need to hve your router forward port 9999 to your DS. IP address of can be found on the WiFi menu screen in game.
If you don't have port 9999 being forwarded to your DS, you can still host a LAN game, just be sure that the other DS's that try to join use the Join LAN Game option rather than the Join Game option in the menus.
Controls
Operate with Stylus.
Screenshots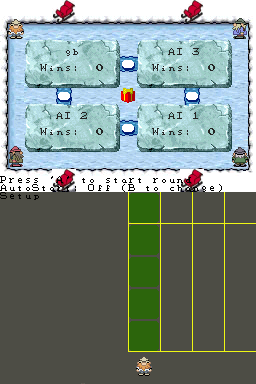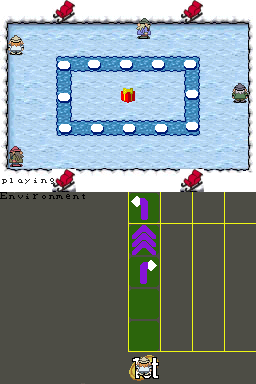 Compatibility
Tested on:
R4iSDHC (firmware 2.7e)
Ultra R4 (firmware v1.56)

External links