X-Soft
From GameBrew
A shell homebrew has an interchangeable skins environment, tester buttons, games, etc. It has 100% original graphics, reminiscent XP style but with its own personality. It is available in Spanish and English.
It was participated in the Scenery Beta 2009, ranked 2nd.
User guide
An additional plug-in, X-Soft Plus, is available that will trigger new features:
Change the nickname in XSoft (without modifying the one of the DS).
Add an icon in the desktop folder that launches XSoft Plus (the boot goes to /NDS/xsoftplus.nds, will not load if the homebrew is not present).
Unlockable options that allows you to set a password, enable cheats in the penalty game and rhythm game (both games come from the base application X-Soft).
Controls
Stylus - Full control of homebrew
Screenshots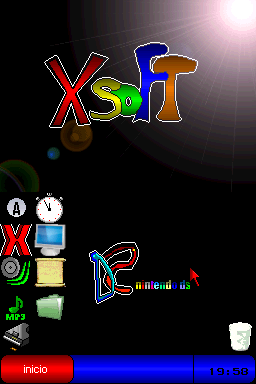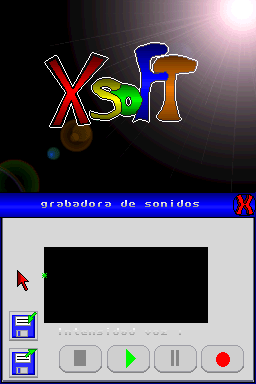 Compatibility
Tested on:
M3 Real (firmware 4.2c)
Edge (firmware 1.4)
EZFlash Vi (firmware 1.90)

Changelog
Version 10.0
Improvements across the base of homebrew.
Improved some icons.
Functional chronometer, now you can start, pause and "despausarlo" (pressing the Play resets too).
Intro bar has a more fluid movement.
Save a sound that was recorded in the recorder and load anytime (reproduced in the same way).
Improved drawing system, among other things now has more colors.
Now the alarm does not sound with normal sound, if not throw an annoying sound and repeated for 10 seconds, which will tell you better.
Now when you save a text also save the position of the last letter, which when loaded, you will keep writing where you left off.
Improved penalty in itself and in which we must keep up, now include the ability to save as many points you got and at logoff or restart save, each time you complete the max score, the score will max points Your sacastes.
Compatible with Xsoft Plus.
External links