Wubly PSP
From GameBrew
Wubly
General
Author
chocodino
Last Updated
2010/08/11
Type
Action
Version
0.5
License
Mixed
Links
Download
Website
Wubly PSP is a port of the Wubly game by Chococino. Initially developed by Jesse Venbrux in 2004 for PC, Wubly is a fast paced action game which is similar to Canabalt with Dance Dance Revolution mixed in.
User guide
This game takes place on the planet of the Ubly's, where you will control a Ubly named Wubly throughout the entire game.
The objective is to recover all the Ubly rings to save the planet of Ubly's and defeat Xubly, an evil Ubly.
Controls
Menu:
D-Pad - Move through options
L - Return to the previous menu
Cross - Select option, Advance (during introduction)
In game:
D-Pad Up - Skip
D-Pad Left - Cancel
D-Pad Down - High Jump
Cross - Touch the red ring (at the end of the level)
Screenshots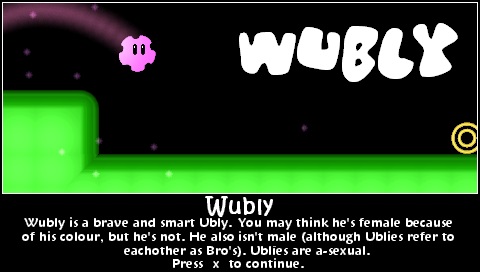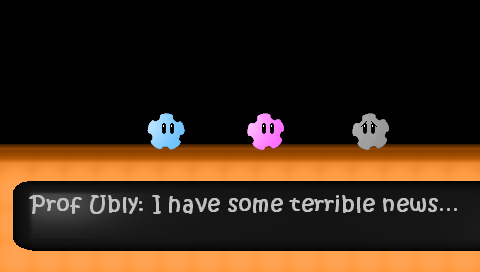 Known issues
The Options at the menu screen does not work.
Changelog
v0.5
Cleaning General of the code.
Fixed all bugs.
Now all menu options are accessible [except the options option].
Added music [although in future versions the quality will be improved].
Added tutorial.
Now the game has two levels [of the tutorial].
Mini game added [is hidden].
The game has an introduction.
Now when using the pad to the right when playing an ubly ring, wubly will increase its speed for a short time.
ICON0 and PIC1 improved.
External links