South Africa World Cup 2010 DS Manager
From GameBrew
South Africa World Cup 2010 DS Manager
General
Author
cid2mizard
Last Updated
2010/06/25
Type
Other Apps
Version
1.03
License
Mixed
Links
Download
Website
A manager/calendar application which you can manage the schedule and results of your favorite teams participating in the grandest stage in football, the FIFA World Cup.
It allows you to make predictions, follow and fill in all the scores of the matches and have information on the stadiums and the teams. The photos of the teams during the qualifications are stored on the flash card and you can replace them yourself. It is available in English, French, German, Spanish and Italian.
Installation
Unzip the archive and copy the .nds file to your flash card.
Copy the /SAWCMDS/ folder to the root of your flash card.
User guide
Menu options:
Group management allows preliminaries.
Round of management allows games of knockout.
Quarterfinals allows management games quarterfinals.
Semifinals allows the management of semi-final games.
Finals allows the management of large and small final.
Stages can get information on the 10 stadiums that will be played every game.
Teams can get information about the 32 teams that participles in the World Cup.
Controls
Up/Down - Up/Down
L/R - Page up/down
B - Return to previous menu
Stylus - Select games
Eraser - Delete the result of a match, Delete a played match
Screenshots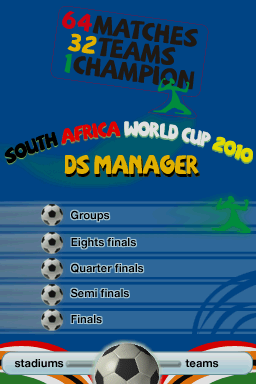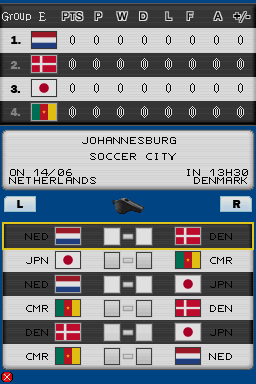 Compatibility
Tested on:
iPlayer (OS 1.3 firmware 1.0.6)
NDSTT (firmware 1.17)
Real M3DS (firmware 4.8)
R4i (unknown firmware)

Known issues
Deleting the result of a match of a team that has already played a higher event can create a structure overrun (e.g. if you are in the quarterfinals, it makes sense at this stage not to delete/modify results of the pools).
Changelog
Version 1.03 2010/06/25
Bug fixes to the quarterfinals, the semis and finals.
Version 1.02 2010/06/23
Version 1.01 2010/06/10
Correction of the spanish translation of the request to load via wifi.
Updated photos of the 32 teams.
Version 1.00 2010/05/28
Support DLDI.
Automatic backup.
5 languages (English, French, German, Spanish and Italian).
Manual management scores.
Times, dates, locations of the 64 matches.
Automatic classification of hens.
Automatic qualification (hens and finals).
Updated results via a WiFi connection.
Photos and information (city, capacity, construction, architects) of the 10 stadiums.
Photos and information (Coach, founded in, number of participations, number of world champion title, fifa ranking, color of the jerseys) of 32 teams.
External links