Setsuzoku no Puzzle
From GameBrew
Setsuzoku no Puzzle
General
Author
Sébastien THON (Stravingo)
Last Updated
2007/09/16
Type
Puzzle
Version
0.3
License
Mixed
Links
Download
Website
Setsuzoku no Puzzle is a homebrew puzzle game for the Nintendo DS where you have to remove all the tiles on the screen. Setsuzoku no Puzzle means Puzzle of Connections in Japanese, the gameplay is inspired by Shisenshou Joshiryou-Hen Match It, which was an arcade puzzle game originally released by Tamtex in 1989.
This homebrew was ranked 1st at the GBA-NDS competition.
Features
Addicting puzzler.
Three difficulty modes.
20 different board patterns.
High-score save.
Automatically save current level.
Installation
Download and extract file.
DLDI patch it if needed (if your card does not have auto-patching) and copy it to the root directory of the card.
Play the game on a real DS and not on emulator as it would be too slow.
User guide
The goal of this puzzle game is to clear the screen of the bricks which are there by connecting them in identical pairs (color and symbol), so that the path which connects them does not have more than two right angles. Obviously, the game takes place in a limited time.
Some bricks are special: Stars and Moons. You can connect stars to each other regardless of their colors, the same for moons.
In addition, when you remove these special bricks, you stop the countdown for a few seconds.
With each level, the time allotted to you passes more and more quickly. At the highest levels, your brain will be running at full speed to spot the bricks to remove as quickly as possible! You will see that you will learn to memorize the arrangement of the bricks to go faster. You will also develop strategies to unlock bricks that will allow you to unlock more. In short, it will force you to think a few moves in advance.
But fortunately, if you dry up miserably, a help system will allow you to automatically find pairs of identical bricks. These aids are limited in number. You start with 3 aids and earn one at the end of each level if you haven't used any during the level.
Difficulty modes
Easy - There is few different tiles at first, but a new tile is added every 5 levels. The tiles are placed in 20 different patterns.
Normal - The tiles are placed in 20 different patterns.
Difficult - For those who want a challenging game.
In all three modes, the time speeds up at each level.
Note: You may get stuck when the remaining bricks cannot be removed due to their arrangement. It's rare, but it can be detected by the program. Therefore, if the game does not tell you that you are blocked, there is a solution. If you get stuck it's game over.
Controls
B - Music on/off
X - Use some limited help
Y - Change plasma color
Start - Quit the game
Close lid - Pause game
Screenshots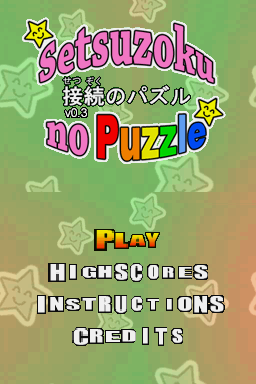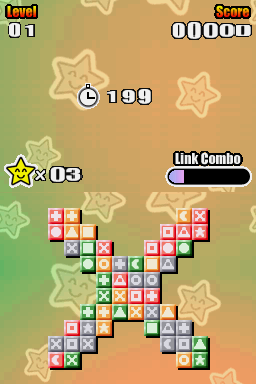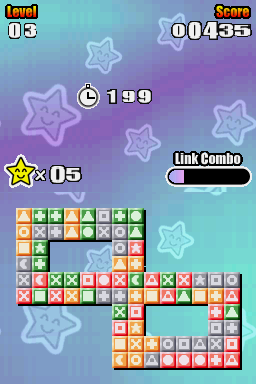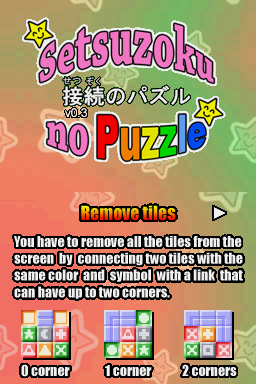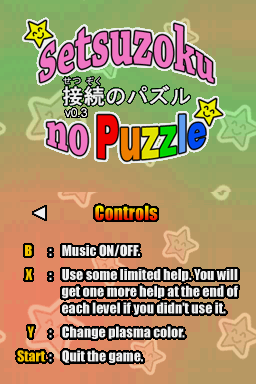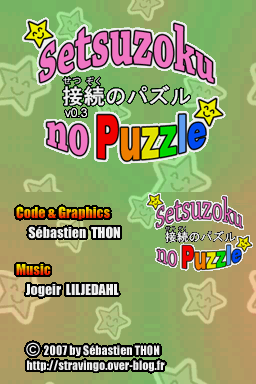 Changelog
v0.3 2007/09/16
There is now three difficulty modes, instead of the single Normal mode. In Easy mode, there is few different tiles at first, but a new tile is added every 5 levels. The Difficult mode is for those who want a challenging game. In the three modes, the time speeds up at each level.
In Easy and Normal modes, the tiles are now placed in 20 different patterns.
There is now 3 highscores tables saved on the DS and saved on the net on leaderboard.palib.info to handle the best scores of the 3 difficulty modes.
When you do a highscore, you have now the choice to send it right now on leaderboard.palib.info or to send it later if you are not close to a wifi access point. In order to send unsent scores, go to the highscores screen in the game and press X. Instructions are provided on this screen, where unsent scores are preceded by a red L.
The current level is now automatically saved, so you can continue to play a previous game when you choose Play.
Some minor graphical and animation changes.
v0.2 2007/09/02
There is more time to complete the first levels to be easier for beginners, but the time speeds up at each level.
When you quickly remove several pairs of tiles, you gain more points thanks to a combo system: when the combo progress bar fills up, instead of gaining only one point when removing a pair of tiles, you can gain 2 points, 3 points, 4 points or 5 points. The progress bar fills up when the time between two removals is less than 3 seconds. Else, the progress bar gradually empty.
You can pause the game by closing the DS.
At the end of each level, the remaining time and remaining number of helps are added to the score.
The 100 best scores are now saved (you need to DLDI patch the game).
You can send your scores on leaderboard.palib.info to compare your skill with other players worldwide (beware of Eglantine, developer's sister).
You don't loose anymore when there is no more possible moves. Now, the remaining tiles are randomly moved so that you can finish the game.
More user friendly as you can use the stylus in the various menu screens, highscore screens, etc.
More sound fix.
Some graphical enhancements (special fx, removal of magenta pixels at the edge of sprites, etc).
v0.1 2007/05/10
External links