Seno DS
From GameBrew
SenoDS
General
Author
a128
Last Updated
2010/01/21
Type
Music Apps
Version
0.9.1
License
Mixed
Links
Download
Website
Seno DS is a music live sequencer. It uses WAV samples or sounds recorded via the DS microphone.
Features
8 Tracks , 8 Clips per track, 16 Slots (Pattern).
Track audio from WAVE samples or Microphone.
Track settings: Sample, Polyphone/Monophone/Trigger mode, ADSR envelope, LFO.
Transpose +/- 36 semitones (3 Octaves).
Maximum 16 Voices.
Clip records 12 notes per step with velocity.
Choose different musical scales, including Seno scale (A3-E5 Major), Ionic (C4), Chromatic (C4), Major pentatonic (C4), Minor pentatonic (C4), Arabic (C4).
Clip settings: lenght 1-16 steps, speed.
KAOS pads.
Live recording and arranging via Stylus.
BPM 40-240 and Swing.
Mixer with Distortion.
Loads WAVE files.
Loading/Saving of snapshots.
Memory saving sample managment.
Installation
Download and extract file, then copy .nds file to the memory card.
If you can't load Seno DS on your card try loaders like dsorganise or moonshell or the homebrewmenu loader from devkitpro.
User guide
Use any mono wav sample. Put the sounds in a directory with the name of seno1, seno2, seno3 and seno4.
These directories could be in a folder /nds/ or on the root of your sd-card.
It must not exceed 128 samples for each slot.
Controls
Uses Stylus.
Left/Right - Switch the screens
A - OK (in dialogs)
B - Cancel
X/Start - Start/stop of the sequencer
Y - Enable/disable visual effects
Up/Down - Transpose the track
Left/Right - Browse thru sub-pages, Left/right (in dialogs)
Screenshots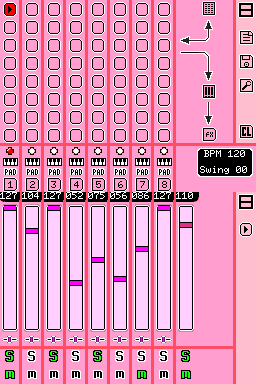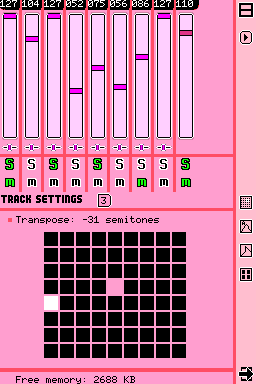 Media
Compatibility
Tested on:
R4 SDHC (firmware 1.31)
TTDS (unofficial firmware 1.17a12)

Changelog
Version 0.9.1 2010/01/11
Works now with more homebrew cards.
Title screen fixed.
Gate/legato screen fixed.
Version 0.9.0 2009/12/24
First release.
Saves a Snapshot of your work to a file "snap.sen" on your card.
Credits
Isabella (nitroFs embedded filesystem for the DS).
MeRAMAN (NDSBGMFILLER).
Sandro for his comments on scales.
Cavia the creators of the Korg DS-10.
Toshio Iwai (Electroplankton / Yamaha Tenori-On).
Headspin NDS Keyboard Examples and Nintendo for the DS/DSi.
Nintendo, DS, NDS, DSi trademarks are property of Nintendo corporation.
Tester: Alex, mentaldominance.com/dkiefer, fanta/hotelsinus.com
External links