PSParticlePlayer PSP
From GameBrew
PSParticlePlayer
General
Author
MK2k
Last Updated
2008/08/15
Type
Media players
Version
1.0
License
Mixed
Links
Download
Website
PSParticlePlayer is a MP3 player featuring visual effects, based on a Particle Engine Editor (work in progress at the time for the PGE game engine release). It is developed in C using the PGE game engine, particle engine based on Haaf's Particle Engine.
It was one of the contest entries for the Neo Summer Coding Compo 2008 (PSP Applications).
Installation
Copy the PSParticlePlayer directory to your /PSP/GAME/ or /PSP/GAME3xx/ or /PSP/GAME4xx/ directory on your Memory Stick.
User guide
The homebrew will load music from the ms0:/MUSIC/ and ms0:/PSP/MUSIC/ directories, it does not support subdirectories however.
Controls
Analog - Move the particle system around
Select - Enter or Leave the Parameter Menu
Start - Fire the System
D-Pad Left/Right - Change parameters in the menu (hold Square for larger steps)
D-Pad Up/Down - Browse parameters in the menu
Triangle - Save the settings to the current preset
L - Bring up online help
R - Cycle through music tracks
Circle - Quit (in Menu)
Screenshots
An effect while music is playing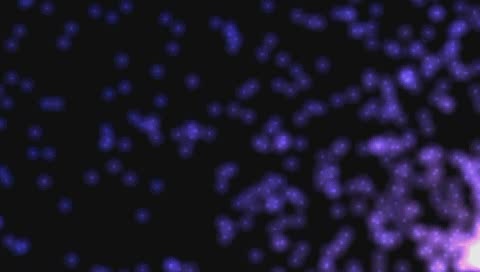 An effect currently being edited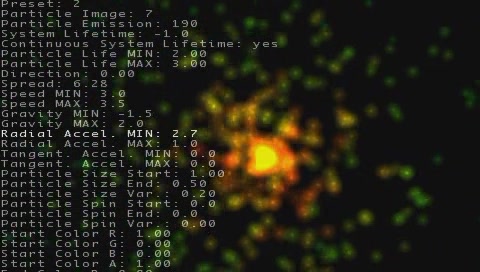 Media
PSParticlePlayer 1.0 Demo (arrdcore)

Known issues
Detection of the end of a music track could have some errors so manual skipping is possibly needed.
Credits
External links