FSPDS
From GameBrew
FSPDS
300px
General
Author
NotImplementedLife (N.I.L)
Last Updated
2021/03/07
Type
Other Apps
Version
0.1
License
Mixed
Links
Download
Website
Source
FSPDS is a homebrew application that allows you to play DSi Flipnote Studio .ppm files on Nintendo DS (Lite) directly from your flashcard.
Released in 2009, Flipnote Studio is a free downloadable application for the Nintendo DSi which allows users to create frame-by-frame flipbook-style animations with the console's touch screen, cameras and microphone.
Installation
Create a new folder named flipnotes at the root of your SD card.
Copy your favorite flipnotes (in PPM format) to flipnotes directory.
Copy FSPDS.nds (DLDI if needed) anywhere to your SD card.
User guide
Limitations
FSPDS doesn't detect/play flipnotes larger than 1MB (this is intentional behavior).
Don't place more than 1024 files in flipnotes directory, otherwise FSPDS won't be capable to see them all (also intentional behavior).
Sound playback is supported. However, don't keep the flipnote paused for a long time, otherwise the sound will no longer be synchronized with the animation.
Controls
D-Pad - Select a file from the menu
A - Play
L/R - Navigate through bottom-screen tabs
Screenshots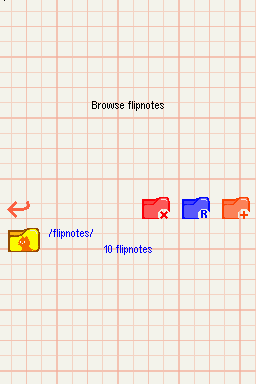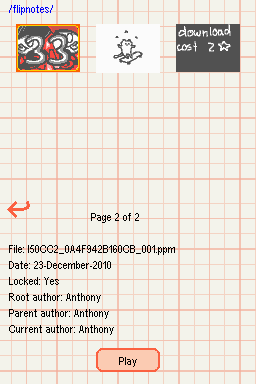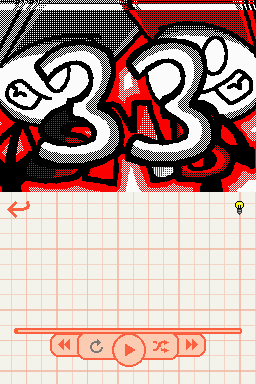 Compatibility
Tested on R4(i) flashcards, DeSmuMe and iDeaS emulator.
Known issues
It's possible to encounter some graphical glitches.
Credits
External links