Diagnose
From GameBrew
Diagnose
General
Author
Spinal
Last Updated
2007/07/23
Type
Other Apps
Version
2007
License
Mixed
Links
Download
Website
DiagnoSe is a DS function tester, designed to test the features of the DS.
It was presented in the Dev-fr Coding Compo 2007 with Evolution theme, sponsored by DS-X, ranked 5th in the App section.
Installation
Download and extract DiagnoSe.nds to the apps folder.
Run from the apps menu of your DS-Xtreme.
User guide
Diagnose can test the following features of the Nintendo DS system:
Direction Pad and buttons.
Touch screen accuracy.
Wifi settings.
Microphone.
Speakers.
Screen lights.
Motion card/pak (sold separately).
Rumble pak (sold separately).
DLDI FAT.
SRAM.
Other features of DiagnoSe include:
Boot GBA game.
Fix stuck pixels.
Reset to card menu (supported cards only).
Power off DS.
Set screen brightness (DS Lite only, not saved in firmware).
Battery monitor.
Temperature monitor.
GBA screen select (not saved in firmware).
Controls
Use Stylus to navigate the menu.
Three buttons below the menu return you to the main menu, reboot and power off the DS.
Screenshots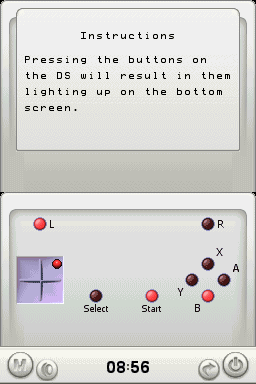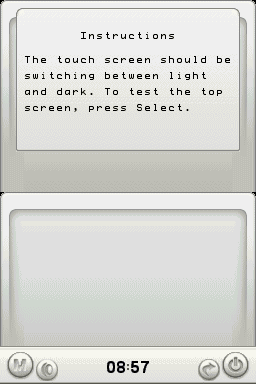 Media
DiagnoSe - Nintendo DS Homebrew (CannonFoddr)

The Ultimate Nintendo DS, 3DS and 2DS Repair Tool - Test/Diagnostic Cart (Game Game)

Credits
Dizi, Chishm, Lick, Mollusk, Dr Neo, Jayenkay, Ritchie, Cearn, LiraNuna, TheYak, sumiguchi, Abrexxes, Uwe.
External links