Cream And Cheese
From GameBrew
Cream And Cheese
General
Author
Sam Kitsune
Last Updated
2010/07/02
Type
Demos
Version
Demo
License
Mixed
Links
Download
Website
Cream And Cheese is a DS homebrew platform game in which controls Cream the Rabbit and his friend Chao cheese and need to help them reach the teleporter together. One level is available in this version.
User guide
In this gmae you control both Cream and Cheese. Cream is controlled in the top screen with buttons, and Cheese is at the bottom screen using Stylus.
The goal is to travel though a maze and reach to the teleporter together.
Using teamwork is critical because there are obstacles that will get in their way.
Controls
Start - Start game, Grow/shrink timer GUI
Cream:
Left/Right - Walk
A - Jump, Double Jump (while falling), Fly (during double jump)
Down (in mid-air) - Ball Pound
Up (near ladder) - Grab Ladder
Up/Down (Grab Ladder) - Climb
Down (top of ladder) - Grab Ladder
Cheese:
Hold touchscreen - Fly to the direction of the stylus
Tap Cheese - Fall
Screenshots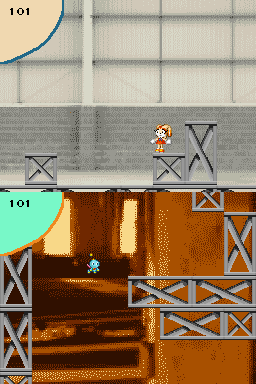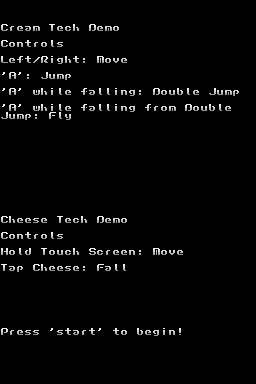 Compatibility
Tested on:
DSTT/TTDS (firmware 1.17a12)
iEvolution CycloDS (firmware 2.0)

Known issues
The game does not have sound and music, a splash screen, enemies, some kind of particle system, custom fonts, or any features that feels like a real game.
External links