Triple-DobleU PSP
From GameBrew
Triple-DobleU
General
Author
trom_us
Last Updated
2009/09/03
Type
Other
Version
2009
License
Mixed
Links
Download
Website
Ttriple-DobleU (Spanish) is an optimized web browser specifically made for browsing Scenebeta.com. It is written in Lua by trom_us.
This is an entry from the Scenery Beta 2009 (PSP Applications).
User guide
It navigates only in SceneBeta pages, you can browse pages (NDS section, Wii section and PC section) and download these files from there.
Lists mode will show you the lists of all the files sorted as shown on the page.
You can choose to unzip downloads from the menu options.
This action restarts the browser however and developer recommend not to unzip directly in the PSP if possible.
Controls
Up/Down - Move cursor (move up for menu)
Cross - Click
Right - Go to the bottom of the page
Left - Go to the top of the page
L+Up/Down - Advance from page to page
Start - Exit
Triangle - Take screenshot
Screenshots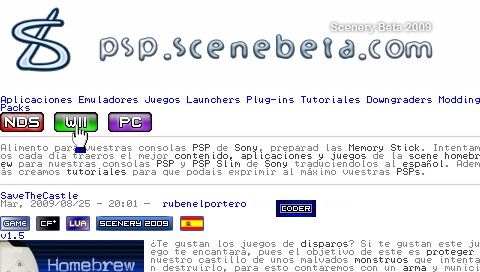 External links