Tangram DS
From GameBrew
Advertisements
<htmlet>adsense</htmlet>

Tangram DS is a remake of the ancient Chinese puzzle game in which there are seven pieces puzzles with different sizes and shapes. It provides the possibilities to form many shapes.
It attended the NEO Summer Coding Compo 2007.
Features
72 stages.
Controlled with Pad or Stylus.
User guide
Use the puzzle pieces to recreate the figure selected on the top screen.
Magnifier icon can be used to position one correct puzzle at each stage randomly.
Controls
Stylus:
Click and drag - Movement
Straight line - Flip left/right/upwards/downwards
Sloping left/right line - Rotation
Keypad:
D-Pad - Movement
Y/A - Rotation
X/B - Flip
L/R - Tangram selection change
Select - Stage change on play
Screenshots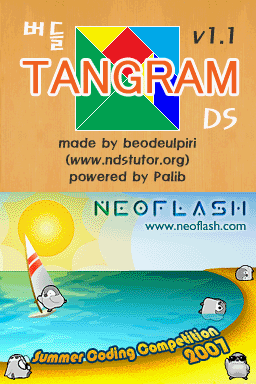 Known issues
There is limitation that only one matching method is being recognized as puzzle solved, thus sometimes it doesn't show Victory.
Changelog
v1.1
Press and hold the arrow keys Pad to move. Before, you had to keep clicking to move.
If you press the trigger, it will be selected repeatedly regardless of left or right.
The design has been modified to look better.