Stop at 500
From GameBrew
Stop at 500
General
Author
coolbho3000
Last Updated
2008/08/30
Type
Other Games
Version
1.0
License
Mixed
Links
Download
Website
Stop At 500 is a DS homebrew game based on a classic timestoper game.
User guide
Press the touch screen when the counter reaches exactly to the number 500, however pressing the screen and stops at 499 or 501, you lose.
You can choose between 3 levels of speed, where the first being the simplest and the third being the most difficult/fastest.
Controls
Stylus - Stop timer
Screenshots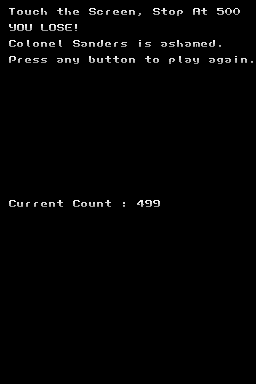 Compatibility
Tested on iPlayer (OS 1.2 firmware 1.0.6).
External links