Spice and Wolf - The Wind that Spans the Sea English Translation
From GameBrew
Spice and Wolf: The Wind that Spans the Sea English Translation
General
Author
AGT Team
Last Updated
2022/06/01
Type
Translations
Version
1.0
License
Mixed
Links
Download
Website
Ookami to Koushinryou - Umi o Wataru Kaze is an simulation game for the Nintendo DS.
Released in 2009, The Wind that Spans the Sea is the second of two Spice and Wolf games for the Nintendo DS, which takes on and improves many elements from its predecessor, without being a direct sequel of My Year with Holo.
Installation
Before you can play the translation, you'll need to patch the game on your computer using a legal copy of the ROM.
Game information
Japanese title
狼と香辛料 海を渡る風
Aliases
Ookami to Koushinryou - Umi o Wataru Kaze
English title
Spice and Wolf: The Wind that Spans the Sea
ROM information
File
Ookami to Koushinryou - Umi o Wataru Kaze (Japan).nds
Serial
BOKJ
Size
268435456
CRC32
B2EA6D73
MD5
ECE63390068D708A5E56D0E471D11FE7
SHA-1
58F307C0E69D08924A95CEDCFFF6F6EB0B875F44
Using the Online Patcher:
Upload your ROM using the "Choose File" button where prompted.
Select the patch that you wish to apply using the dropdown menu.
Click Apply Patch, and wait for the download to complete.
You should now have a patched copy of the ROM, labelled '-input source- (patched)'.
Using Delta Patcher:
Run either DeltaPatcher or DeltaPatcherLite.
Original file should be your copy of the ROM, as an .nds filetype.
For XDelta patch, choose the UmioWataruPatch.xdelta file.
Hit apply patch, and you're good to go.
Note that this will overwrite your original file. If you'd like to keep a copy of it instead, change the settings by clicking the cog icon, and tick Backup original file. This will create a new '--PATCHED.nds' file instead.
ROM compatibility:
This patch is designed to work with a 100% correctly dumped ROM (CRC: B2EA6D73).
If your ROM is a bad dump (CRC: CC9640AB), you can try applying the "bad_to_good.xdelta" patch before applying the translation patch by following the guide above.
To check which ROM you have, use the Online ROM Hasher to compare the values.
Troubleshooting:
An "xdelta3: target window checksum mismatch: XD3_INVALID_INPUT" error may occur when trying to patch the incorrect ROM.
Make sure that your ROM isn't already patched, else apply the "bad_to_good_dump.xdelta" patch to the bad dump before applying the translation patch.
Alternatively, using DeltaPatcherLite, change the settings (the cog symbol next to the 'Apply patch' button) and untick "Checksum Validation".
User guide
Story
Part business simulator, part dating game, step into the shoes of Kraft Lawrence as you strive to take Holo back to her hometown of Yoitsu.
Having secured a contract to collect some money from a town on the other shore, everything should be plain sailing ahead, but of course, the best laid plans of mice and wolves often go awry...
Cheats
The patch comes with a translated cheats file ready to be used with the emulator DeSmuME if so desired (UmioWataruCheats.dct).
These can also be used with other emulators/flashcarts, however may require you to do some additional setup first.
Please consult a guide for your specific software for instructions on what to do.
Translation notes
While it's not necessarily to play the prequel My Year with Holo in order to enjoy this patch, it is recommended that anyone thinking of playing both starts there.
When subtitles begin playing, you may notice a full or partial black line flash up for a second. Subtitles are used for the opening movie, end credits and special messages. This is merely a visual error and should not cause any playback issues.
The line spacing of the large white speech bubbles (rumors, hints, etc.), was adjusted to allow for six lines to be used instead of five. This is consistent with what was done for the first game.
The background images used in Norah's "Shoulder Massage" event have been changed from a day street scene to an inn at night to better fit the mood.
The patch also contains a fix for a rare bug present in the original game which prevented the contract to deliver 1 Milk, 1 Egg and 2 Mussels to Dielmon from being completed.
If you're interested in knowing more about the hacking specifics or translating the game into another language, the source code & compiled program covering both text and image extraction/repacking for this and My Year With Holo can be found on Github.
Screenshots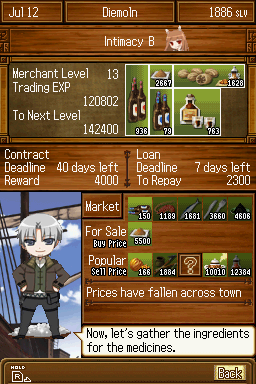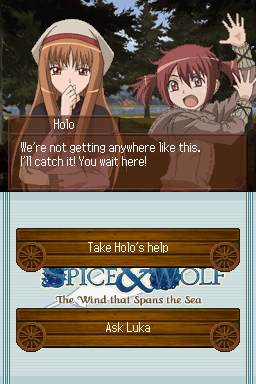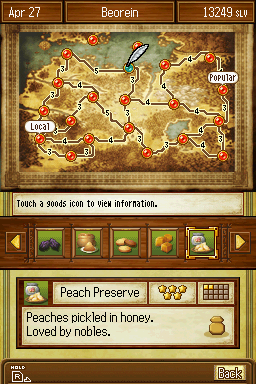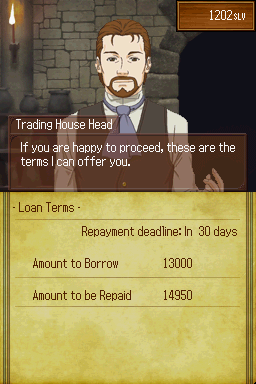 Media
Spice and Wolf: The Wind that Spans the Sea English Trailer (AGT Team)

Known issues
Some flashcarts have been found to randomly crash when playing the opening movie in both the patched, and unpatched game.
It is recommended that anyone experiencing crashing simply skips the movie by tapping the touch screen or pressing any button. The rest of the game should be playable as normal.
Credits
Hacking - Illidan.
Translation - Phantom, shnurks, Morgas.
Proofreading - Cleran, NowlasWolf.
External links