Spice and Wolf - My Year with Holo English Patch
From GameBrew
Spice and Wolf: My Year with Holo English Patch
General
Author
AGT Team
Last Updated
2021/03/31
Type
Translations
Version
1.1
License
Mixed
Links
Download
Website
Ookami to Koushinryou - Boku to Holo no Ichinen is an simulation game for the Nintendo DS.
The translation references the official English light novels, published by Yen Press. It was completed in record time thanks to the efforts of a previous patch project and translator RottenPantsu, who posted a partial translation of the main storyline on YouTube.
Installation
Before you can play the translation, you'll need to patch the game on your computer using a legal copy of the ROM.
Game information
Japanese title
狼と香辛料 ボクとホロの一年
Aliases
Ookami to Koushinryou - Boku to Holo no Ichinen
English title
Spice and Wolf: My Year with Holo
ROM information
File
Ookami to Koushinryou - Boku to Holo no Ichinen (Japan).nds
Serial
YU5J
Size
134217728
CRC32
9E4800E2
MD5
45E06C981DE5653E122D9B5AFC72F1FA
SHA-1
4ED7AD11780BC52528B7F083F5A974833E584C2A
Using the Delta Patcher:
Extract the file, and run either DeltaPatcher or DeltaPatcherLite.
Original file should be your copy of the ROM, as an .nds filetype.
For XDelta patch, choose the BokutoHoloPatch.xdelta file.
Hit apply patch, and you're good to go.
Note: This will overwrite your original file. If you'd like to keep a copy of it instead, change the settings by clicking the cog icon, and tick Backup original file. This will create a new '--PATCHED.nds' file instead.
User guide
Story
Life can be tough for a novice merchant, but when an offer too good to refuse finds its way into your lap, what's a peddler to do?
A non-linear story with 12 possible endings, it's time to take the reins and explore the charms of a pseudo-Medieval world, with Wisewolf Holo as your travel guide!
Translation notes
A file containing translated cheat codes for DeSmuME has been included in the download. (BokutoHoloCheats.dct) To use it, rename the file to match the English-patched ROM and drop it into your DeSmuME's cheats folder.
Below is a list of bug fixes/tweaks that were made to the original ROM.
Added subtitles to the opening movie & special message
Adjusted line spacing for white speech bubble messages (rumors, tips, etc.), to allow for six lines to be used instead of 5.
Fixed a mistake during the "Confectionary Contest" consultation in which the Grocer's nametag is shown for two of Holo's lines.
If you enjoy the game, check out its spiritual successor Spice and Wolf: The Wind that Spans the Sea. While the story is unrelated, the second DS game expands on many of the mechanics, even adding the possibility of a new second companion.
Screenshots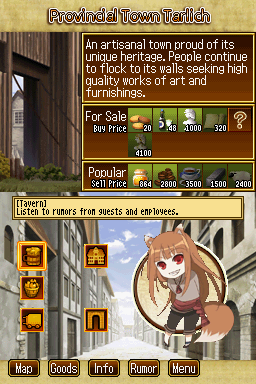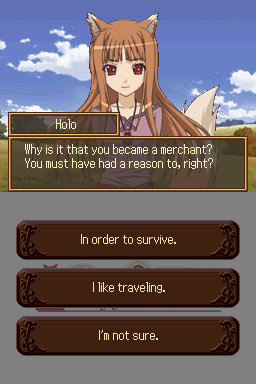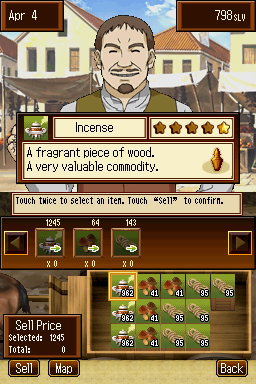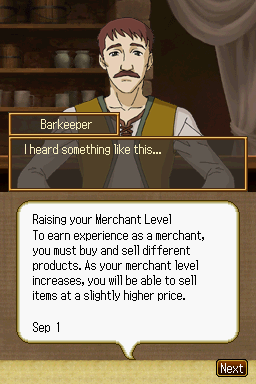 Media
Spice and Wolf: My Year With Holo English Patch Debug Scene (AGT Team)

Compatibility
Play this file on an emulator such as DeSmuME, or use a flashcart to play it on any member of the NDS family.
Changelog
1.1
Fixed an issue with one dialog line getting stuck and not advancing in the third intimacy level up scene with Holo.
1.2
Shortened price rises/falls caviar shortage rumor.
1.3
Fixed rumor length and typos.
Credits
Hacking - Illidan.
Translation - Phantom, rottenpantsu, jbondsr, Morgas, StargazerOntan, casadillaa, Moaku, nanjigen.
Proofreading - emcintosh, NowlasWolf, PockyChan, GanjiMEX.
Special Thanks - Suruz, Remilia, Masa.
External links