Simple 3DS GBA Banner - Icon generator 3DS
From GameBrew
Simple 3DS GBA Banner - Icon generator
General
Author
natinusala
Last Updated
2016/07/25
Type
Other PC Utilities
Version
1.0
License
Mixed
Links
Download
Website
| | |
| --- | --- |
| | This application has been obsoleted by one or more applications that serve the same purpose, but are more stable or maintained. |
Simple 3DS GBA Banner + Icon generator is a software that allows you to generate the images from any ROM automatically. It is created for people who want to make their own GBA CIA injections, without the need to search for the images/edit them one by one.
Note: This utility has been incorporated into Ultimate GBA VC Injector.
User guide
The program first identifies the game of the ROM using the no-info dat-o-matic database. Then the software downloads the image from the libretro's thumbnails database. Finally, the Image Fairies combines all this to generate the wonderful images that you can see, using their Magical Pen to write the game name to the banner.
To use:
Give the ROM to the software.
Wait for it to search from the database.
Click on the save button.
Note: You can change the TTF if you prefer a different font.
Screenshots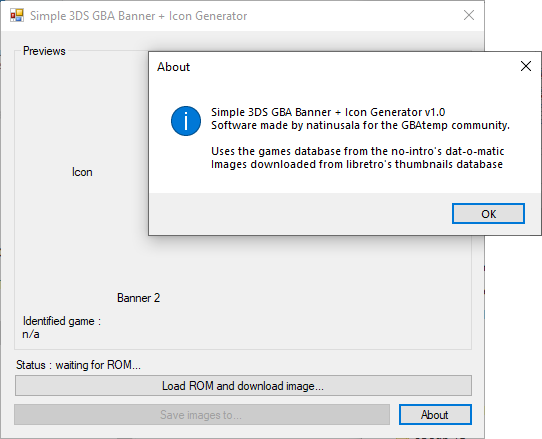 Changelog
1.0
External links