RaceGW
From GameBrew
RaceGW
General
Author
enix-zae
Last Updated
2008/10/23
Type
Racing
Version
Final
License
Mixed
Links
Download
Website
RaceGW is a DS homebrew racing game which emulates kart racing game from retro gaming handheld consoles.
User guide
The goal is to get the highest scores possible by dodging vehicles and overtake them ​while speed gradually increases. It offers 3 difficulty modes:
Very Very Easy (3 lives).
Easy (2 lives).
Insane (1 life).
Controls
Left/Right or L/R - Turn left/right
Start - Start game
Select - Select game difficulty
Screenshots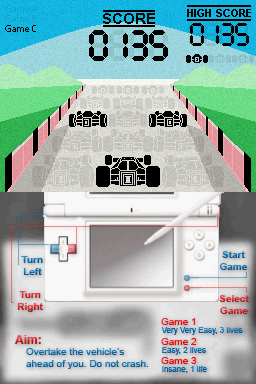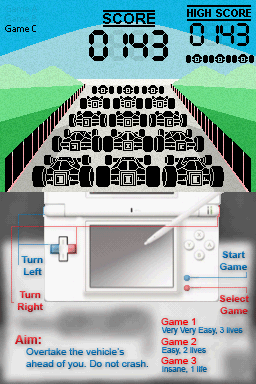 Compatibility
Tested on:
SuperCard TF (unknown firmware)
R4 Revolution R4 Wood (firmware 1.33, 1.47 and 1.48)

External links