Puyo Puyo 7
From GameBrew
Puyo Puyo 7
General
Author
Puyo Nexus
Last Updated
2016/12/06
Type
Translations
Version
1.0
License
Mixed
Links
Download
Website
This patch translates the game Puyo Puyo 7 (released for NDS on 2009/07/30 by Sega) to English. The game is playable from beginning to end, including anti-piracy patch.
It is fully translated with the exception of the following:
Download Play (players who use the download play option to play will be in Japanese).
Ranking next to your name in Wi-fi Puyo Puyo.
Password system for the Practice Notes (not translated on purpose).
Installation
You will need a clean Puyo Puyo 7 rom image (so no anti-piracy patch applied) to apply the patch.
Game information
Japanese title
ぷよぷよ! 7
English title
Puyo Puyo 7
ROM information
File
4036 - Puyo Puyo 7 (JP)(BAHAMUT).nds
Region
Japan
CRC-32
9D25B477
MD5
E98F7CE2EB96F730E23AA55A80313CEE
SHA-1
97EB54C1246A9C46B15400207EB8B9E499CAB1A6
This patch is in xdelta format, to the patch to your ROM:
Screenshots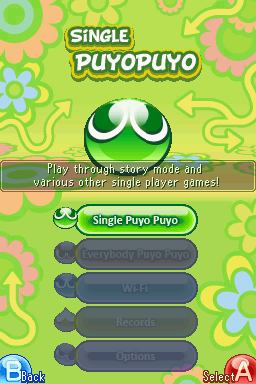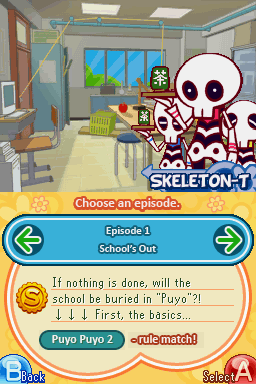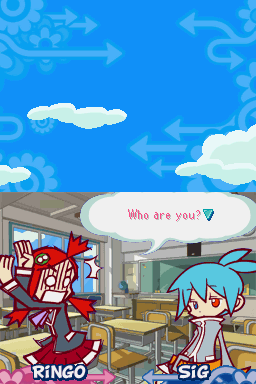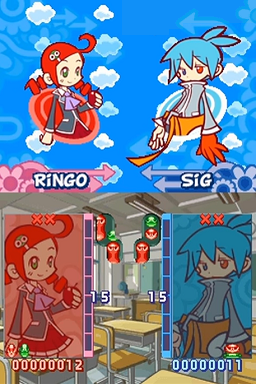 Media
Puyo Puyo 7 (2009, Nintendo DS) - Story: 1 of 7 (Act 1, Ringo)[English][720p60] (Rubycored)

Compatibility
You can either use flash card and play on a Nintendo DS or use an emulator (No$GBA or Desmume is recommended).
Credits
Project leader, romhacking, programming etc - Hernan.
Translation - momochi, xat.
Image and text editing - Chrono_Tata, Baby Bonnie Hood.
Programming - nmn, Yoshi.
Betatesting - S2PID, Ila, Nekomithos.
And everyone at the Puyo Nexus community for their support.
External links