Plus Ou Moins DS
From GameBrew
Plus or Minus DS
General
Author(s)
corenting
Type
Puzzle
Version
2.1
Licence
Mixed
Links
Download
Website

Plus Ou Moins DS is an adaption of the classic game More or Less on the DS. The game will switch into English or French depends on the language setting in your DS.
It was presented to the NEO Coding Compo 2010.
User guide
The DS will think of a number and it is up to you to find it.
Choose a number and the DS will give you one of the following clues:
Plus (More) - The number is higher than the one you guessed.
Minus (Less) - The number is lower than the one you guessed.
The game continues like that until you find the correct number.
Controls
D-Pad - Choose number
OK icon - Confirm number
Screenshots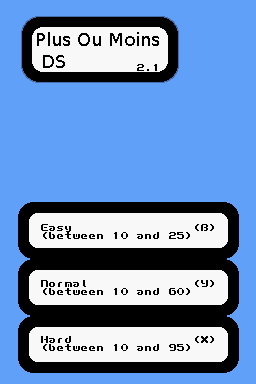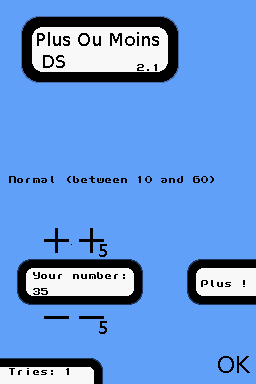 Changelog
2.1
Compiled with latest libnds & co.
2.0
New look, differents levels of difficulty, music, sound.
1.5a
Removed the A button control. You have to use the touchscreen OK button.
1.5
touch screen buttons added.
1.2a
1.2
1.1
English translation added (PlusOrMinus.nds).
External links