PONG extreme
From GameBrew
PONG extreme
General
Author
Rck (René C. Kiesler)
Last Updated
2008/08/27
Type
Arcade Games
Version
0.1
License
Mixed
Links
Download
Website
PONG extreme is a cross-over of Space Invaders Extreme and Pong. The music, graphics and the display (in later versions) of PONG extreme change according how will you perform, similar to Rez and Space Invaders Extreme.
This game supports, but does not require, the Taito Paddle Controller for Nintendo DS.
Installation
Download and extract file.
Put the .nds file and this .txt on your memory card. Some Nintendo DS card readers are able to display textfiles like a manual.
User guide
Try to rebounce the puck (the tiny object that goes back and forth between the longer ones) as often as you can.
The one who misses the puck 10 times loses.
Controls
Stylus - Move around menu
L/R or Left/Right or Taito Paddle Controller - Control lower paddle
Screenshots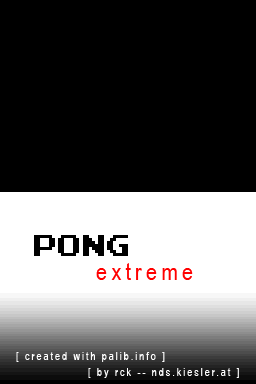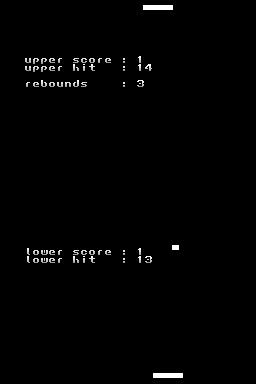 Compatibility
You needs a Nintendo DS system capable of playing homebrew ROMs. Cards that enable to do so include the R4, the Cyclo DS, the Supercard and the Acekard.
Known issues
Even if you miss the ball on purpose, the CPU might still lose.
When switching screens (from gameplay to winning, pause, etc) the music does not continuous or overlaps.
Changelog
Version 0.1 2008/08/27
Easy one-player mode.
Title, winning, loosing and pause screens.
Support for D-Pad, Shoulder Buttons, Start-key.
Support for Taito Paddle.
Credits
This project would not be possible without palib.info ("PONG extreme" is based on PAlib) and its forum.
Also, the in-game sounds originate from "The Freesound Project" freesound.org) and are all licensed by-Attribution via the Creative Commons license.
Used samples (courtesy of freesound.org):
Cognito Perceptu - Hand (17093).
OPM - CP set1 (2080).
Oscillator - Kick04 (2487).
Thanvannispen - Male Scream (9426).
NoiseCollector - jillys sonar (6164).
The in-game music was created with the Skale tracker, which is based on Fast Tracker 3. Other loops taken from:
Winx - Oakish.
Winx - Don't Laugh.
Inner City - Good Life.
External links