MegaZeux PSP
From GameBrew
MegaZeux
General
Author
MegaZeux developers
Last Updated
2020/11/22
Type
Computer
Version
2.92f
License
GPL-2.0
Links
Download
Website
Source
MegaZeux is a game creation system (GCS) created by game developer Alexis Janson in 1994. Originally a DOS program, in 2005 a multi-platform port was released by Exophase. The most recent version of MegaZeux is 2.92f, which was released on November 22nd, 2020.
MegaZeux is officially supported on Windows, Linux/BSD, MacOS, as well as the NDS, 3DS, Wii, and PSP consoles. Historical support has also existed for GP2X, Pandora, and AmigaOS 4.
User guide
Config file
One of the first things you should do is edit the options in the config file; even experienced MZXers may find some of the customization options novel and useful. Open config.txt in any text editor, there is ample commentary to let you know how to change the options. Make sure to remove the # sign from any option you want set.
Editing the options can result in better sound, better/more customizable graphics, more fitting defaults, a more personalized Robotic editor, joystick support, extended macros, automated backup and much more. New versions - even minor version changes - can add new options to the config file or rename old ones, so it is helpful to keep this file current.
Online resources
Controls
MegaZeux (action, title screen, window, default game key):
D-Pad - Cursor, Move Up/Down/Left/Right
Analog - Axis X/Y
Circle - A, Play game, Select, Space (shoot)
Cross - B, Main menu, Cancel, Delete (lay bomb)
Triangle - X, Load world, Select char, Enter (game menu)
Square - Y, Reload save, Backspace, S (Caverns: spells)
L - L shoulder, Settings, Next element, Insert (switch bombs)
R - R shoulder, Settings, P (Caverns: alter)
Select - Select, Main menu, Cancel, Game menu (2)
Start - Start, Play game, Select, Game menu (2)
The PSP port does not map axis_rx, axis_ry, axis_ltrigger, axis_rtrigger, ltrigger, rtrigger, lstick, or rstick. No button is reserved for a keyboard as the PSP port supports an infrared keyboard.
Screenshots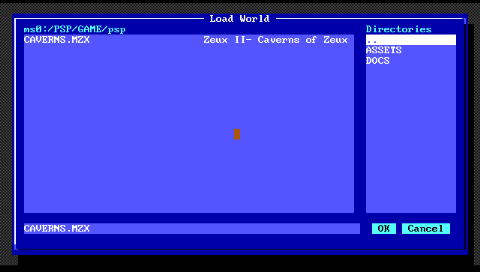 Credits
Programming and Overall Design by Gilead Kutnick (Exophase), Alistair Strachan (ajs), Alice Rowan (Lachesis) and Lancer-X.
Based off of original program and source code by Alexis Janson.
Help file by Terryn.
Default SMZX palette by Joel Lamontagne (LogiCow).
ccv utility by Lancer-X. png2smzx utility by Alan Williams (Mr_Alert). checkres utility by Josh Matthews (Revvy), ajs and Lachesis.
Port contributors: Adrian Siekierka (asiekierka) [3DS], Mr_Alert [Wii], Kevin Vance [NDS], Simon Parzer [GP2X].
Renderer code contributors: LogiCow, Mr_Alert. Shader code contributors: David Cravens (astral), GreaseMonkey.
Icon by Quantum P.; Extra icons by LogiCow. GDM conversion by ajs and MadBrain. Other past contributors: Spider124, Koji, JZig, Akwende, MenTaLguY.
Special Thanks: Dizzy (Testing, .deb and Arch packages) Spectere (Testing, OS X Builds, MSVC project) Terryn (Testing) mzxgiant (MSVC Testing, Bug Fixes) mzxrules (Testing) Quantum P. (OS X Testing / Builds) Wervyn (Testing).
External links