MasterMind - Ruffsta
From GameBrew
MasterMind
General
Author
Ruffsta
Last Updated
2010/08/06
Type
Board
Version
2012
License
Mixed
Links
Download
Website
MasterMind is an adaptation of a board game of the same name, in which you have guess a series of 4 colors in 8 attempts.
User guide
The objective of the game is to guess the correct color combination. You have 8 chances to do so.
To ascertain the combinations, compare and analyze the sequences of your guesses with the results:
Missing dot - The color you entered does not appear in the combination.
Orange dot - Indicate a correct color but at the wrong position.
Green dot - One of the color is placed correctly.
You can choose between 3 difficulty levels, each with more colors.
Screenshots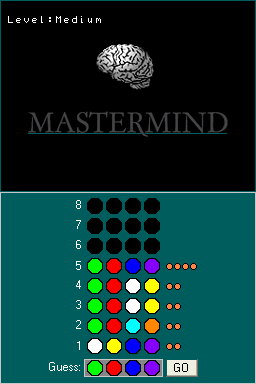 Controls
Operate with Stylus.
Compatibility
Tested on R4i SDHC (firmware 2.7c).
Credits
Credit goes out to Eldude for helping with a couple of bugs and Metatarsals for helping with the logic bug.
Also credit to Fabien Butazzi for the brain image with permission for usage.
External links