Lock The Folder PSP
From GameBrew
Lock The Folder
General
Author
knopper
Last Updated
2011/06/11
Type
Utilities
Version
1.1
License
Mixed
Links
Download
Website
Lock The Folder is an application that allows you to lock not only the PSP-folder (MUSIC, VIDEO, PICTURE, ISO, GAME150, PHOTO, SEPLUGINS, SCREENSHOT, PRIVATE), but also hides individual files and subdirectories. Windows has no access to the content of the locked folders. You can use it to set passwords as an alternative.
This was one of the contest entries for the PSP Genesis Competition 2011.
User guide
Important note from developer:
Please take precautions and back up your important data if needed. If you encounter issues when unlocking subdirectories, you can use an hexeditor.
PRIVATE folder
For example, if you want to use a PRIVATE folder, write the following line into the file private.cfg:
ms0:/PSP/myprivate/

Create a folder with the same address and start the application Lock The Folder. Be careful not to locked system-relevant directories.
How to bolt subfolders safely
If you bolt a subdirectory with up to 7 upper or lower case, the name will be safed with dot and 3 letters.
With more than 7 characters, the subfolder will be safed with all letters and is only invisible for the PSP (invisible on PC), but it's not secure bolted. If it shares upper and lower case characters then you get the same result.
Subdirectory - Example with up to 7 upper or lower case:
EXAMPLE (unlock) to .EXA (lock) = securely bolted = EXA (after unlock)
example (unlock) to .exa (lock) = securely bolted = exa (after unlock)
Example (unlock) to .Example (lock) = only invisibly = Example (after unlock)
Recommended names for proof subfolder(s) are A00-Z99. It does not concern the GAME folder.
Subdirectories can be locked but not secure bolted, only shown as Currupted Data (to reduce risk of mistakenly locking crucial datas).
PSP folder structure
/MUSIC
/VIDEO
/PICTURE
/ISO
/SEPLUGINS
/PSP/GAME
/PSP/GAME150
/PSP/PHOTO
/PSP/SCREENSHOT
/PSP/SYSTEM/systema.cfg (password file)

Remove passwords
You can remove all the passwords by deleting systema.cfg (password file).
GTM
Change your time-zone (GTM) by editing gtm.cfg. Daylight plus 1. Don't forget "+" or "-".
Controls
D-Pad - Move between folders/files
Cross - Lock/unlock directory
Circle - Enter folders and sub-folders
Square - Remove
Select - Password
Screenshots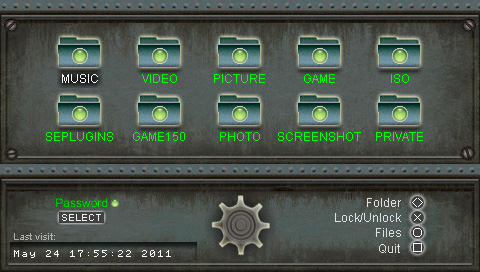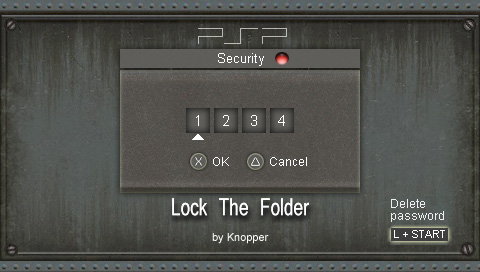 Compatibility
Tested on PSP1000, PSP2000, PSP3004, PSPGO with 6.20 TN-D.
Changelog
v1.1
Fixing bolting of subdirectories with less than 3 characters.
Fixing locked and unlocked folders are existing at the same time.
SEPLUGINS folder.
SCREENSHOT folder.
PRIVATE folder.
External links